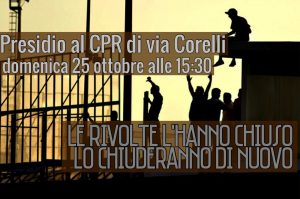 Milan – 25 October – Demonstration in front of the Detention Center in via Corelli
Posted on 02/10/2020 by hurriya

Milan – 25 October – Demonstration in front of the Detention Center in via Corelli
A new prison for the excluded, an old remedy for the included.
It is incredible, but at a time like the one we are living in, amid fears and generalized impoverishment, those who govern the city find nothing better than opening a new prison.
People who, starting from countries where the profit anxiety of predators has stolen land and resources by offering wars in exchange, when they manage to get to this country without losing their lives at sea or on the borders, what do they find? Barriers, barriers never reserved for those who come from the "right" side of the land. Barriers that oblige him to physical, psychological, bureaucratic controls, stuck like cattle, selected, divided by his affections, put in structures where he will have to ask, ask everything. With grace and obedience, because it is undesirable. And then the infernal circle of papers to be provided to get permission to stay, to get the privilege to stay. And the threat is in the refusal of requests, in the total void that will open up before him if he is not accepted here. A refusal becomes, him or herself, to be pushed back and, in the meantime, locked up in a CPR (detention and repatriation center).
Repatriation Centre, prison, lager because, as for those of horrible memory, it is administrative detention. Locked up, and not even as punishment for a crime committed or presumed, but because one is without a document. A document which is clearly a pretext being, for those who have been made illegal, very difficult to obtain. Inside those walls will remain months, treated by that refusal that has become here, waiting for repatriation. The conditions inside these centres are now widely known. They are crowded together with strangers from different places and cultures, sometimes incompatible, with health care that to define inadequate is an understatement, stuffed with psychotropic drugs to maintain internal order, fed with insufficient and damaged food, without legal assistance. Days spent in total passivity, waiting to be driven back from where you fled because of danger, hunger or even just out of desire. Stolen lives.
And outside? Who sees and knows of the existence of these new lagers, what do you think? That it is right to lock up immigrants? That they are the cause of the difficulties to find a job, to pay rent, to survive in this system where at most you float with your head out of the mud?
When we look back at the history of the twentieth century, we say that those horrors, those persecutions must never happen again. But here they are again. Those of today do not look the same, we do not want to recognise them. Instead, it is the same story, the one in which one identifies an enemy to blame, usually an enemy more miserable than us who is blamed for our daily miseries. It is a trap conceived, since time immemorial, by those who rule the world to keep the wretched divided among them, to keep themselves in power by having their subjects massacred among them, who never have to identify the real enemy, never have to unite to attack him, finally.
On October 25th we will be there, under those walls that are once again "hosting" a detention centre for immigrants without a residence permit. To say that this abomination is not admissible, that anyone should be able to move freely, from whatever part of the earth they come from, without having to submit to such inhuman treatment, that racism is a creation of the propaganda of the powerful that leverages on low grudging instincts, but that it only serves them to keep their position of command. In short, we will be there to see if it will ever be possible to find the strength, the determination, the way to fight against today's horrors.
Punto di rottura (Breaking Point)