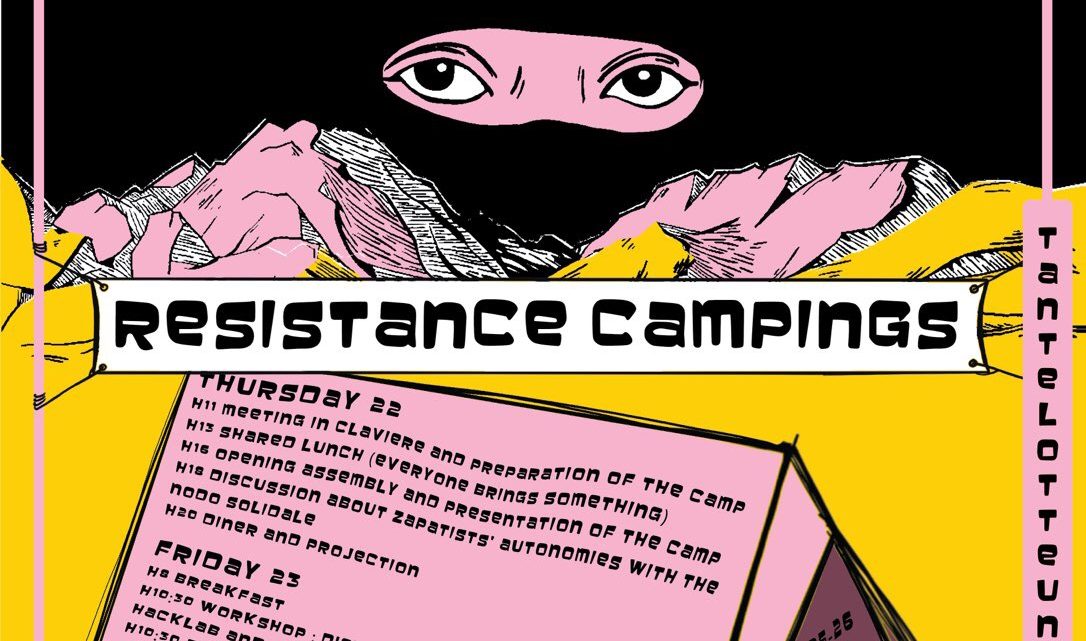 CALL FOR THE RESISTANCE CARAVAN "POR LA VIDA" AT THE MONTGENÈVRE BORDER
At the Western Alps border, the separation between those who enjoy systemic rights and privileges and those who are deprived of them is not only geographical: it is the expression of the logic of profit embodied in security practices, pushbacks, gender violence, abuses, arbitrary detentions, deportations and repression. For these reasons, we call everyone to this border to participate and actively build for three days of resistance, exchange and sharing of practices and struggles.
Warning: the camping is not allowed, participating means assuming personal and collective responsibilities.
For now, although we are waiting for confirmation of the arrival of the Zapatista delegation, we continue to do our best to give them the opportunity to join us and to be welcomed in this territory.
The camping is self-managed. This means that any contribution is welcome and especially a certain level of self-organisation is needed. We want to have an initiative energy and be creative, for the success of the camping.
What you can do :
– Come equipped (bring your tent, sleeping bag, light, walking shoes, tools…)
– Make proposals (workshops, exchange moments, artistic performance, common meal…)
– Spread the word (NB: we would like the camping to be as safe as possible for all participants. Please do not share this with people you do not trust. No sexism, no racism, no authoritarianism, no police).
Free-price solidarity canteens will provide the meals.
Freedom, Hurriya, Liberty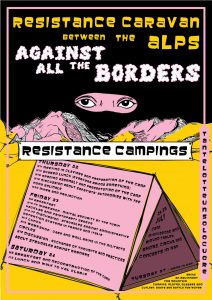 PROGRAM OF THE RESISTANCE CARAVAN

THURSDAY 22
H11 Meeting in Claviere and preparation of the camp
H13 Shared lunch (everyone brings something)
H16 Opening assembly and presentation of the camp
H18 Discussion about zapatists' autonomies with the Nodo Solidale
H20 Diner and projection
FRIDAY 23
H8 Breakfast
H10:30 Workshop : digital security by the Turin Hacklab and Criptoparty Geneve
H10:30 Discussion : Struggles against administrative detention systems in France and Italia
H13 Lunch
H15 Workshop : Care and well-being in the militants circles
H15 Discussion : exchange of thoughts and practices about struggles against borders
H20 Dinner
Following the concert of BANDA PERIFERICA TERRANEO

SATURDAY 24
H8 Breakfast and deconstruction of the camp
H12 Lunch and walk to Val Clarée
H19 building of the camp
SUNDAY 25
Deconstruction of the camp and walk to Briançon

25-26 JULY
Camp, discussions and round tables, shows, circus and concerts in Gap
TUESDAY 27 :
Demo in Gap
Bring an adequate equipment for mountain camp, plates, glasses and cutlery, boots and bottle for water!