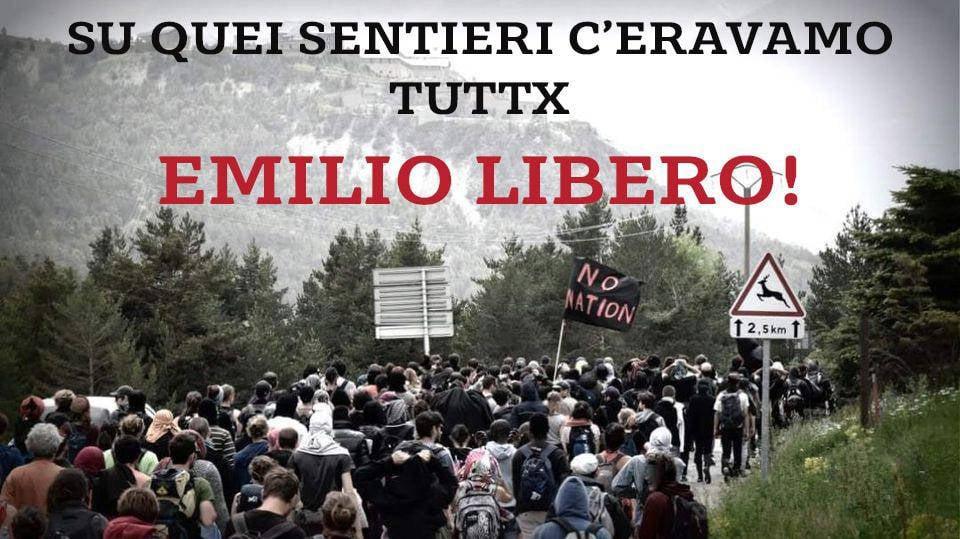 PERMANENT DEMONSTRATION IN FRONT OF EMILIO'S HOUSE
BREAKFAST AGAINST EXTRADITION EVERY MORNING AT 6:00 AM (from Monday 29 Nov)
On Friday 26 November, the Court of Cassation rejected the appeal against the request for a European Arrest Warrant (EAW), a simplified extradition procedure within the European borders, submitted by France. Emilio has been under house arrest since 23 September, after spending a week in Vallette prison. He is accused of violence and aggravated injuries against a public official, for a demonstration against the existence of borders and against the eviction of the self-managed shelter in Oulx, which took place on 15 May 2021 in what they said was French territory. The violence, of which he is accused, is a small but sincere reaction to the much more serious violence that states through their cops carry out every day against people crossing borders.
On the border between Claviere (Ita) and Montgenèvre (Fr), as on all other internal and external borders of the European Union, the police threaten, rob, beat and kill. On these mountains of the upper Susa Valley alone, in the last three years there have been five deaths; people who have died not because of the snow and the cold, not because they got lost on the mountain paths, but killed by the repressive and murderous policies of the states and their border police. The Susa Valley border is just one of the many tragic border crossings that characterise the European Union; in these mountains as well as in Ventimiglia, Calais, between Poland and Belarus, in the Mediterranean Sea, and on the borders of the Middle East and Africa, European states finance surveillance and selection systems to repress and decide the fate of the individuals who cross them. They speculate and exploit the lives of those who seek to self-determine their existence, choosing on what piece of land to live.
The European Arrest Warrant is a procedure, within the competence of Europol, which shows the real interests of the European Union. Although the EU hides behind a false rhetoric on human rights, it makes its borders more closed for those considered inconvenient to the economic system, but more open and smooth for its Repression.
Fire at the borders, the prisons and the states that support them.
BREAKFAST AGAINST EXTRADITION EVERY MORNING AT 6:00 AM!!!(from Monday 29 Nov)
Everyone is invited to participate!