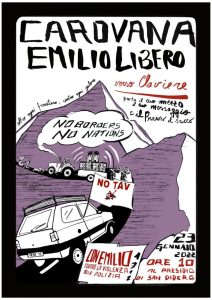 Sunday 23 January, 10am: caravan's car to free Emilio
On Sunday 23 January, the Emilio Libero – Solidarity Committee is organising a caravan of cars to show our solidarity with Emilio.
The meeting is at 10.00 a.m. at the presidio of San Didero and from there we will move towards Claviere.
Bring your own vehicle, banners, megaphone, messages, noisy objects and of course the No Tav flag.
Everyone should bring a packed lunch.
With Emilio and against police violence!
Free Emilio!
to download the flyer HERE