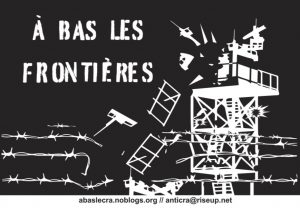 Against places of detention in France and elsewhere, we attack Eiffage!
Translation of the article by https://abaslescra.noblogs.org/ of 24/02/2020

90 days maximum detention, 481 new places in the Detentions Centers (CRA) in the coming years in France: the State is working to lock up, torture and expel more and more foreigners. And it does not skimp in its war against those who do not have the "right" documents.
So, between the reopening of the Detention Center of Hendaye and Geispolsheim, the extension of the Detention Centers of Nîmes and Coquelles, the launch of the construction of the Detention Centers of l'Olivet, Bordeaux and the second Detention Center of Lyon, calls for tenders are flourishing on public procurement platforms and real estate developers who build cages are starting to speculate. Companies collaborating with the state in the expulsion industry are logically squabbling over the tens of millions of euros of public money they can pocket!
A handful of companies divide up the market (Thémis – FM [Bouygues branch], Gepsa [Engie branch], Sodexo, Spie Batignolles, Eiffage) ¹. We target in particular Eiffage, a group of experts in the construction of repressive and murderous properties!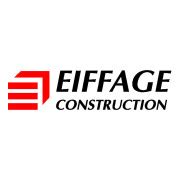 Eiffage manages 100,000 construction sites in France and abroad; one of these includes the management of the "construction" of the new CPR in Lyon in Colombier-Saugnieu (69), whose work will take place from May 2020 to September 2021. Eiffage will be assisted by the company ICAMO, which includes the construction of the detention centre in its website under "Security" ².
Eiffage is making millions of euros on the shoulders of undocumented people who suffer the violence of being locked up in Detention Centers, while the company is restoring its reputation by claiming to be ecologist ³ and against discrimination ⁴. The CEO of Eiffage since 2016, Benoît de Ruffray ⁵ would have received a total salary of 1,515,416 euros in 2016, when his group has a turnover for 2018 of 16.6 billion euros ⁶. Making workers work hard to build cages, it pays. The company receives money from the state, which in turn goes into long-term debt (this is the principle of the famous public-private partnerships).
Poor, discriminated against and undocumented people build these cages and risk being locked up inside.
From the state to business, the actors of the expulsion machine participate in the construction and maintenance of this world of exploitation and domination that needs prisons and borders to continue to exist.
Declare your anger at the enterprises of accomplices!
Against Eiffage, let us organize!
Down with Detention Centers and borders!
¹ Read about it : https://abaslescra.noblogs.org/letat-enferme-ses-collabos-sengraissent-a-bas-lenfermement-et-son-marche/
² https://icamo.fr/reference/cra/
³ https://www.eiffage.com/home/developpement-durable/politique-de-developpement-durab.html
⁴ https://www.eiffage.com/home/groupe/ethique-et-responsabilite-soci-1.html
⁵ http://www.journaldunet.com/business/salaire/patron/benoit-de-ruffray
⁶ https://www.eiffage.com/finance/chiffres-cles