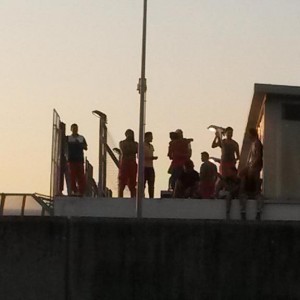 Protest against the deportations in the Detention Center of Caltanissetta, fire in Gradisca (Italy)
In the 24 february morning, in the Detention Center of Caltanissetta – Pian del Lago 10 inmates, upon the arrival of the agents in charge of their deportation, climbed onto the roof of the structure to try to resist the expulsion measure, as has often happened in the past. The authorities sent firemen using stairs to reach the inmates, forcing them, together with the police, to go down. Now the 10 will probably be taken to Palermo airport to be deported to Tunisia. In the camp of Caltanissetta there are still 15 people left, the Detetion Center is being emptied in view of the closure, necessary for the restructuring following the damage caused by the uprising and fire on 12 January, after the death of Aymen Mekni.
The next closure of the camp in Caltanissetta follows the recent closure of the CPR in Trapani, and the closure of Palazzo San Gervasio is already planned in the near future, again because of the destruction of the cells carried out by the prisoners' revolts.
In the 23 night he also protested in the Detention Center of Gradisca d'Isonzo: around 10.30 p.m. some inmates tried to set fire to the mattresses and the fire was extinguished by the intervening officers.
Despite the total isolation imposed and the silence that surrounds them, the struggles in the state concentration camps continue every day, and they still manage to force the closure of these camps.