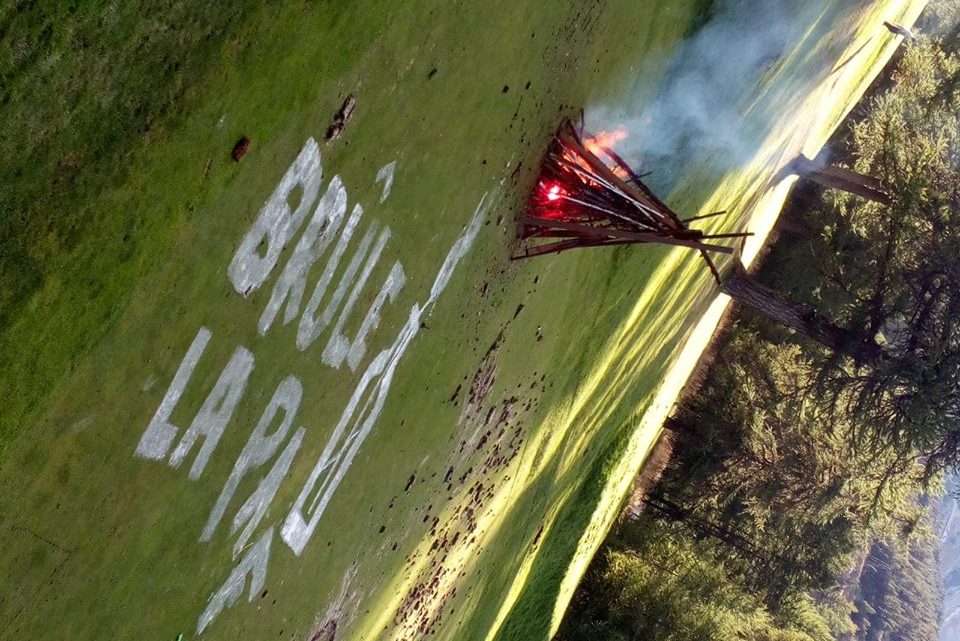 A little note on the repressive operation of the 10/06/2020
Yes, we occupied. We occupied the basement of Claviere's church.

and when they evicted us, we went into the former Casa Cantoniera in Oulx
---
We occupied. We have done it and we stand for it.
And we're still here. The Casa Cantoniera still exists and the fight against the borders is much bigger than the 24 suspects for these occupations and the 17 people they are trying to push out.
Hundreds and hundreds of people from every continent have crossed these spaces.
People who, regardless if they have documents or not, are determined to choose where and how to live, and people who want to fight this system of exploitation, exclusion and seperation.
Everyone has found, before in Claviere and now in Oulx, a space to organize themselves. A space to eat, sleep, get equipped to leave, and time to decide what to do. A space to elaborate discussions, propose initiatives, demonstrations, parades, film forums. Free from blackmail. Out of political games, out of economic circuits, truly autonomous and independent.
In a territory massacred by transport infrastructures, and by the much sought-after construction of a High Speed Train (TAV) to move faster and faster, by the borders made of guards and gendarmes who block and kill those that are forced to walk in the mountains in order to continue with their lives. The goods pass quickly and without problems, while those without papers risk dying chased by the police.
Between yesterday and today the Carabinieri have tried to notify with insistence (in some cases without success) 17 bans (divieti di dimora) from Oulx, Claviere, Bardonecchia, Cesana, Salbertrand. Accusation: occupation in competition of the Casa Cantoniera of Oulx.
Between the lines the precautionary need is justified as a prevention to a possible reoccupation after the eviction of the Casa Cantoniera, which seems imminent.
.
They accuse us of having exploited the migration phenomenon in the upper Susa Valley, of having made political propaganda actions, of having provoced the illegal crossing of the border by the "migrants", putting their lives in danger. As if the people with whom we have organized ourselves for two years, laughed, joked, talked, cried, were helpless dummies, objects with no faculty of choice. Even on the waste paper that the Carabinieri handed us this morning, the state infantilizes and renders the autonomous choices of those who, after all, know very well where they want to go as passive ones. We are sending the accusations back to the sender: no one would be forced to risk their life if they were not persecuted by a system that does nothing but suck and spit, if there were no borders and no documents. The killers are the states, their borders, their cops. And for them, we continue to hold on our hate.
But the crime really committed is one: the occupation. This operation creates a historical-legal precedent with respect to the penalisation of this practice, which has always been a precious instrument of all the movements of struggle.
Any crime with a ceiling of more than 3 years can include the request for precautionary measures. With the last yellow-green security decree, the crime of occupation provides for penalties ranging from 2 to 4 years. With the aggravating circumstance, given if the crime is committed or organised by 5 or more persons, the measure is justified. Italy aligns itself with northern Europe, trying to eliminate the spaces of self-organization. And if now they can also remove groups of comrades from the territories where they live and fight for a simple occupation, let this reflection become more collective. We invite everyone to react, in their own way, in defence of this practice.
In this historical context, and even more so in this pandemic period, control has increased its grip on our lives; repressive instruments are being perfectionized with the sole reason of silencing all forms of autonomous struggle and practices.
The Salvini Decree attacks the very foundations of solidarity.
We will not let our practices be curbed in any way.
An eviction? A hundred occupations!
PS -Ps-in all this shit, at least one thing makes us smile: the cops and journalists are astonished by the massive presence of women in the fight against borders.
In fact it's true: we are many, we are pissed off and we will be more and more.
LET'S OCCUPY A LOT, LET'SOCCUPY EVERYTHING