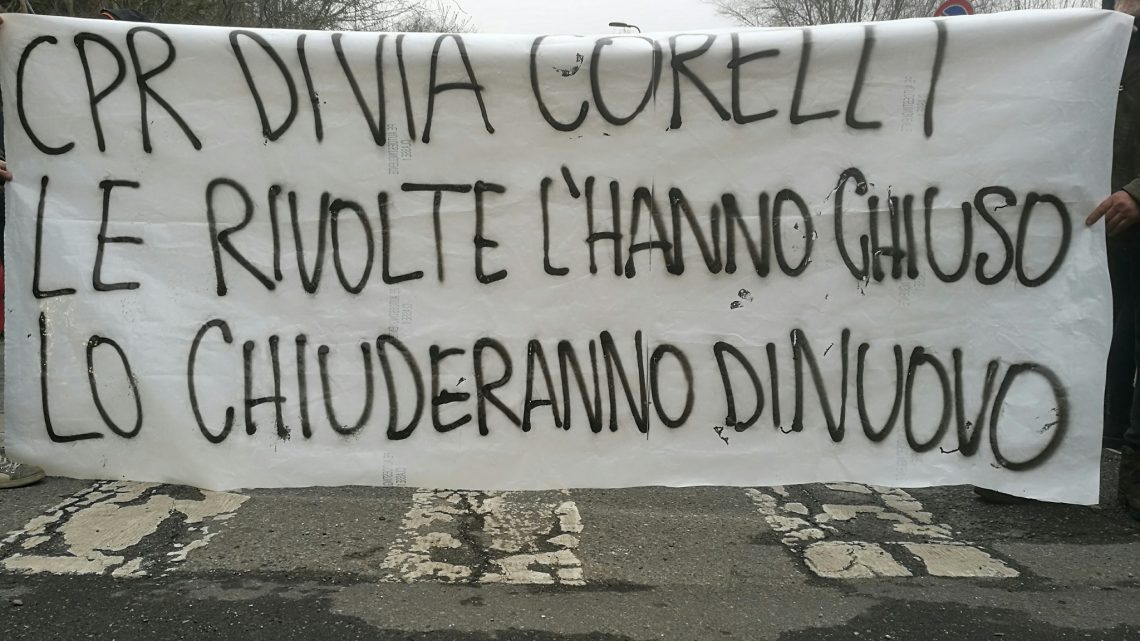 Milan – About the revolt in the Detention Center in Via Corelli
Publish oh Hurriya

As soon as the Detention Center in Milan is reopened, it is already in a good revolt.
The faces of Mayor Sala and Quaestor Bracco must not have looked well when, on Monday morning, lost in headaches between one Covid outbreak and another, they were greeted with the news of a much more worrying outbreak of revolt that broke out in the newly inaugurated Detention Center for migrants (Centro di Permanenza per il Rimpatrio) in via Corelli.
From what we have learned from the newspapers, in fact, from Sunday night until yesterday afternoon about thirty inmates started a revolt by emptying the fire extinguishers, damaging the structure and climbing on the roofs. Some of them have even attempted to escape and some seem to have managed to lose their tracks, while four migrants were injured by police forces.
In the following days, it was reported that 27 inmates were repatriated. Among them many participants in the uprising
As soon as the news was known, a small group of border enemies also tried to reach the hyper-militarised centre to bring their solidarity to the prisoners. While a part of the solidarity group gathered in the garrison near the centre blocking the traffic on Via Corelli and dribbling the clumsy attempts of the Digos to take the banner away, others with a not indifferent acrobatic and vocal ability tried to make themselves heard by the inmates shouting loudly from the overpass of the ring road. In the meantime, some reached the fields flanking the Detention Center, confirming that the screams from the ring road were loud and clear.
Towards evening, a noisy improvised manifestation ran through the streets adjacent to the Lambrate station to tell with megaphone, banner and whistles what was happening in the nearby centre.
Beyond the chronicle, however, a brief reflection is necessary. Only fifteen days have passed since the reopening of the Detetion Center (CPR) in Milan and there has already been the first revolt of the prisoners. Two weeks were enough to remind everyone, if they still needed it, that despite the security decrees, the tightening of sentences, investigations and arrests, riots and escapes continue to be the sharpest weapons available to the harraga to regain a piece of freedom.
In all these years, whoever was in power found themselves having to deal with the impossibility of combining a hypocritically welcoming facade with the manu militari management of these centres. The city of Milan in this sense bears witness to this, with a Detetion Center closed years ago thanks to the determination of those who destroyed it piece by piece, and who even today find themselves in the wake of the same history that seemed to have been forgotten.
Always on the side of the rebels and against all the prisons.
Enemies of borders