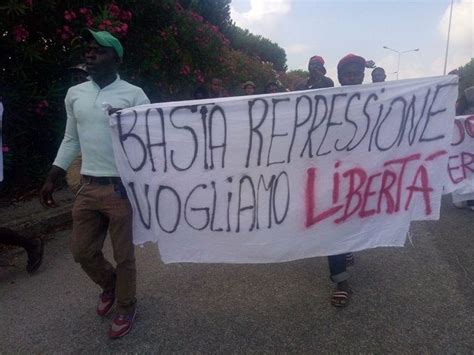 From the workers of the countryside
Below is the communiqué issued by the workers of the countryside following the protest that took place the 21/12 morning in San Ferdinando (RC).
https://campagneinlotta.org/
Today the workers of the tent city of San Ferdinando and the whole plain of Gioia Tauro took to the streets on strike following the murder two days ago of their Senegalese brother Gora Gassama. In a completely spontaneous and self-organised demonstration, more than five hundred people first blocked the highway on which Gora was killed and then the motorway, showing a determination that gives great strength to their demands.
If, in fact, the murder of Gora was the spark that lit this flame, the this flame, racism, which today is also expressed in the words of those who of those who minimise and of those who make Gora Malian, instead of Senegalese, because one African state is just as good as another, the exploitation and repression which and repression that caused it, and which the workers experience every day on their have been the same for decades. And, just like the death of Gora, they are not accidents of fate. They are facts that bring into question precise responsibility and can, must, be eliminated. The workers are therefore
The workers are asking for very specific things to put an end to this tragedy.
Documents, which had been promised, with an amnesty, following the mobilisation of 6 December 2019, but which turned out to be yet another mirage.
Houses, which in Calabria, as in many other parts of Italy, have been ready for years, but are kept empty, with a thousand implausible excuses, in order not to assign them to those to whom they are due.
Respect for employment contracts and their rights, which have always been violated, but even more so at the time of covid, as demonstrated by the even more aberrant conditions imposed in recent months in the tent camps and labour camps.
At the end of the day, the workers obtained the promise of a meeting with the tomorrow, with the mayors of the plain and a representative of the prefecture. A first victory, of course, but the workers are well aware that such promises have often proved to be a way of deflecting their justified their righteous anger, and they are ready to go back to the streets if this is the case.
The workers are determined to assert their demands as today's protest demonstrates, along with the many protests months of the pandemic, and they are also well aware that the most effective way to victory is through struggle, because only struggle pays.