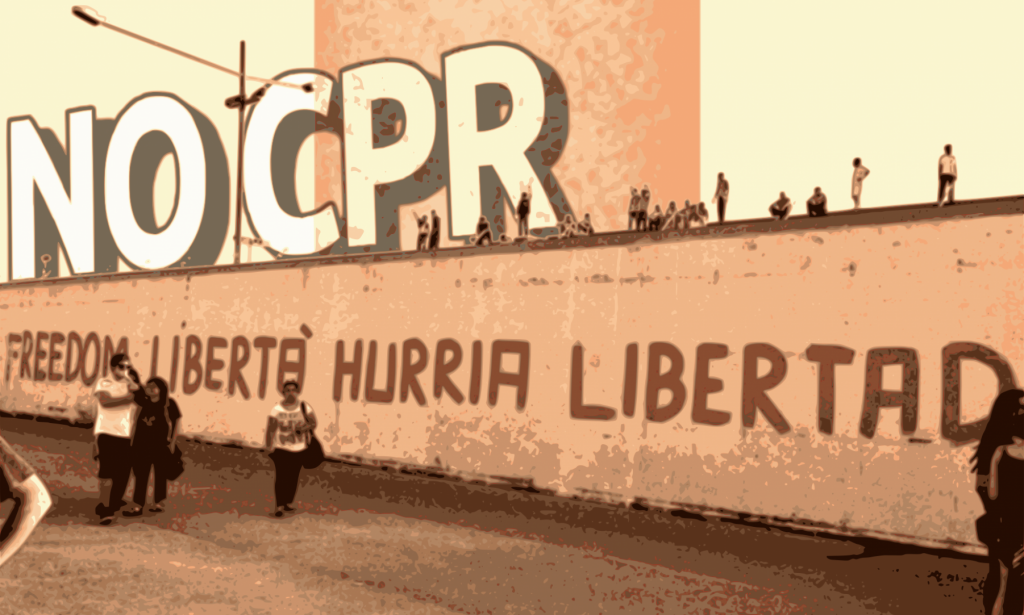 🔴 UPDATE from the detention center in TURIN 🔴
Published the 11.01.2021 on fb No Cpr Torino
Looking at the situation of the structure of Corso Brunelleschi today, bearing in mind the difficulties of communication and organic reconstruction of the events beyond those walls, it seems to be far away the full operation of the areas. The measures taken to contain the Covid-19 contagion inside the facility mean that seven people can be locked up in 45 square metres. Practically every cell holds seven people, just as it did before the virus arrived.
Currently 3 out of 6 areas are only partially active. In the blue area, which is almost entirely unfit for use, four people are held in a small room without mattresses, which was requisitioned by the police as a punishment after protests a few weeks ago. The green and yellow areas were badly damaged by fire in the riots a month ago, but we do not know whether there are still people detained inside them or not.
Deportations to Tunisia are continuous, on Wednesday nights, Tunisian people detained in the centre are put on buses and taken away. There are many cases in which the detainees are released with voluntary departure papers within seven days, nothing new under the sun.
Nothing new either in terms of health and care inside the facility. There is nothing new either in terms of health and care in the facility, or in terms of threats and intimidation.
The guys we managed to get in touch with in the last weeks, and who had the courage to tell us what was happening inside, were, after a live radio broadcast on radio blackout, approached and intimidated by carabinieri inside the CPR in Turin.
Going into the specifics of these intimidations, it seems that the commissioner on duty used a possible accusation of 270bis if other information would have been leaked again.
To others of them, whose vicissitudes we had reported, in order to echo their health conditions and the desperate and necessary need of access to adequate medical care, medical examinations were proposed, clearly unworthy and lying.
The usual dance between doctors and cops in which documents are signed that make almost anyone compatible with detention within the administrative structure.
It is quite clear from these last episodes how big is the fear of the CPR (detention centerI) management first and then of the State in the communication between the inside and the outside of those walls. The requisitioning of telephones last year, which we have often talked about, has played a key role in this game that the strong powers have no intention of losing, but it is also true that many imprisoned people have no intention of suffering in silence, and the riots, as well as the information and contacts that we manage to have strongly demonstrate this.
STAND IN SOLIDARITY WITH THOSE WHO DO NOT LOWER THEIR HEADS!
ALWAYS ON THE SIDE OF THOSE WHO FIGHT!
FIRE AT DETENTION CENTERS.
——————————————
During the 6 January episode of Aperitivo Controinformativo, a live interview with two inmates of the Centro di Permanenza e Rimpatrio di Torino.
The detainees describe the unbearable conditions inside the Centre, the systemic abuses of the police and the conniving indifference of doctors and nurses. They denounce the hypocrisy and racism of the institutions and the silence of silence that covers the horror of this city lager.
https://radioblackout.org/…/a-c-a-b-diretta-dal-cpr-6…/