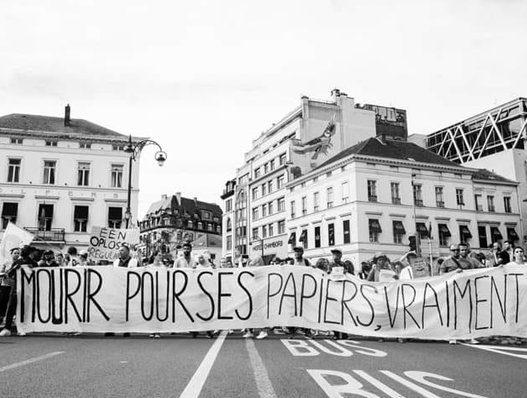 Brussels – 450 sans papiers on hunger strike for 40 days in favour of regularisation
Published on 02/07/2021 by Hurriya
More than 450 sans papiers have been on hunger strike for more than a month (40 days) in three different occupations in the city of Brussels. "Our demands for regularisation have been dragging on for years. Very important decisions concerning our lives are treated arbitrarily. When an application is rejected, the reason is often not clear. When we appeal, the procedure takes years again. The occupiers are therefore calling for immediate procedures to regularise the status of all undocumented persons (estimated at 150,000) and for transparent, lasting and rapid criteria to be drawn up for the future, with an independent commission to assess applications for residence. Since the beginning of the health crisis, there has been no shortage of initiatives by various collectives and people sans papiers. Demonstrations, human chains, garrisons, appeals in the press and meetings with political parties have highlighted the precarious and exploitative situation in which thousands of people, thousands of workers, have found themselves for years. All this was not enough to obtain any kind of response from the institutions and the government. In January, it was decided to continue the struggle by occupying the Béguinage church in the centre of Brussels and two spaces of the ULB and VUB universities. Five months later, on 23 May, in front of the wall of silence of the Secretary of State for Asylum and Emigration (member of the Flemish Christian party CD&V), the occupiers decided to start an all-out hunger strike as a means of putting pressure on the government. On 22 June last, some solidarity activists occupied the Aliens Office in Brussels to demand an appointment with the Director-General. The meeting did not take place and the eviction was carried out with the use of a strong police force. A few days earlier, the SP headquarters had been occupied for 18 hours. Thousands of people also took part in a procession through all occupations in Brussels. More solidarity actions are planned in the coming days.
The medical associations that have been supporting the strikers since the beginning do not stop issuing warnings about their health conditions. As a further protest action some sans papiers decided to sew their mouths shut. The situation is borderline. The Secretary of State keeps repeating that he doesn't want to proceed with a collective regularisation of the strikers, let alone a radical revision of the regularisation rules and procedures. On the other hand, a series of personalities, institutions, parties, trade unions and associations that have expressed their solidarity are splitting the political front, often presenting themselves as mediators with the political authorities without the real consent of those directly affected. The struggle of the occupiers, however, goes on. (For more information: fb group "L'union des sans papiers pour la regularization")
Solidarity with the people without papers!