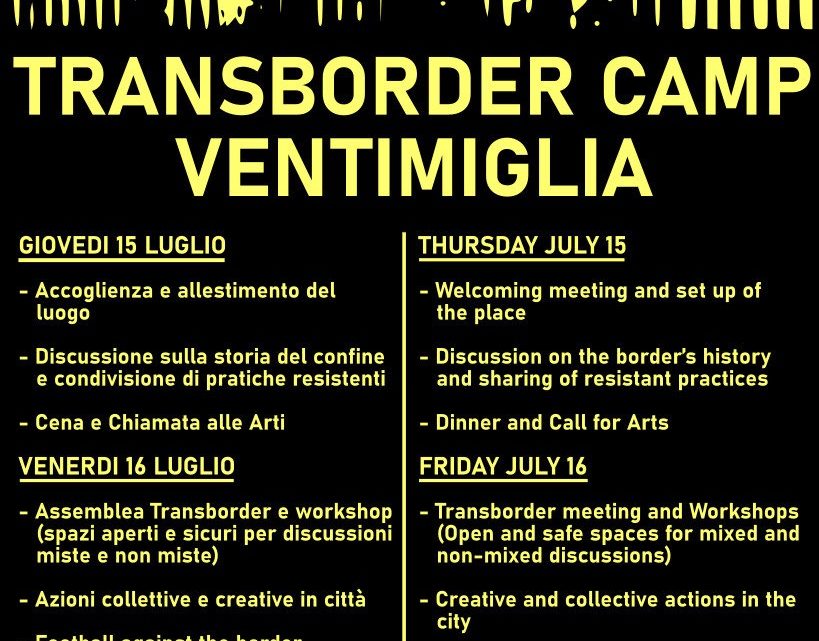 –CALL TO JOIN THE RESISTANT CARAVAN "POR LA VIDA" ON THE FRENCH-ITALIAN BORDER OF VENTIMIGLIA–
we receive and publish
In Ventimiglia, the boundary between those who have systemic rights and privileges and those who are excluded from them is not only geographical: it is the expression of the logic of profit concretized in security practices, pushbacks, gender-based violence, abuses, arbitrary detentions, deportations and repression. This is why we call everyone to participate and actively build three days of resistance, exchange and sharing of practices and struggles on this part of the French-Italian border.
Please note: the camping is unauthorized. Joining means taking personal and collective responsibility.
At your arrival you will be informed about whom to refer in case of need.

Program of the camping in Ventimiglia:
JULY 15 → START OF THE CAMPING IN VENTIMIGLIA
– Welcoming meeting + set up of the place + co-construction of an info-point and camping facilities;
– Discussion of border's history and sharing of resistant practices;
– Dinner
– "Call for Arts".

JULY 16 → CAMPING IN VENTIMIGLIA + ASSEMBLY
-Transborder meeting and Workshops (Open & Safe spaces for mixed and non-mixed discussions);
– Collective actions in the city;
– "Football against the border" (popular football tournament);
– Dinner
– Call for music and exhibitions
17 JULY → CARAVAN "POR LA VIDA" MARCH ON FOOT TO ROYA VALLEY
[18 JULY → March in Genova with "porlavida caravan" for the 20th ANNIVERSARY OF G8 IN GENOVA]
PLEASE WRITE US TO THIS MAIL: TZEC@PROTONMAIL.COM SPECIFYING THE DAY AND THE NUMBER OF PEOPLE WHO WANT TO ATTEND AND ANY SORT OF SPECIFIC NECESSITY.
The camping is self-organized. This means every effort is welcome and also a certain level of autonomy is appreciated. We need to be as creative and propositive as we can for the camping. This is what you can do:
Come equipped [Bring Your Own: tent, torch, shoes to walk, musical instruments, juggling/artistic tools, swimsuit, tools to build structures]
Make proposals [Workshops, moments of sharing, artistic performances, common meals…]
Share the word [Please note: we want to keep it as much as possible a safe space for every subjectivity. Please avoid circulating the invitation to the wrong people. No sexism, no racism, no abilism, no police]
Free solidarity wineries will provide meals. In case it's not enough for everyone: if you have camping cooking gear – bring it.
Hurriya, Freedom, Libertà!