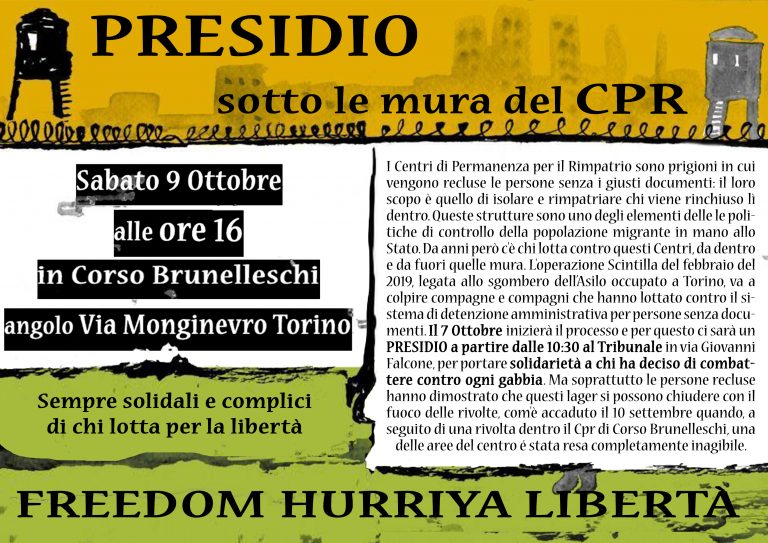 GARRISON UNDER THE WALLS OF THE DETENTION CENTER IN TURIN – SATURDAY 9 OCTOBER
https://nocprtorino.noblogs.org/articoli/
SATURDAY 9 OCTOBER
4 p.m.
via Monginevro corner of Corso Brunelleschi
Inside the detention centres, as well as in prisons, the courage of those who are forced to live in these places on a daily basis is what has moved the situation. The total absence of medical care, the expulsions and the climate of violence that the police and the managing body GEPSA would like to affirm and make normal inside the Centre did not get the better of the determination and the desire for freedom of the imprisoned people.
On Friday, 10 September, all five housing units that make up the Red Area were rendered uninhabitable by the detainees, who angrily protested and set fire to the mattresses. A young man told us on the phone about the reasons for the revolt and the daily conditions of detention they are forced to endure, including lack of medical care and beatings by the guards:
https://nocprtorino.noblogs.org/…/testimonianza-audio…/
The determination with which those locked up have always faced their imprisonment should be an example to us on the outside at a time like this when it is above all solidarity with those who fight and rebel to destroy their cage that is affected on the outside.
At times like these it is more important than ever to make those who are fighting feel that they are not alone, to show that cages and walls cannot make invisible what goes on inside.
In solidarity with the imprisoned people who daily fight and rebel inside the detention centre.In solidarity with the comrades who over the years have fought against the Administrative Detention Centres and now find themselves accused in Operation Scintilla, which also led to the eviction of the Asilo Occupato.