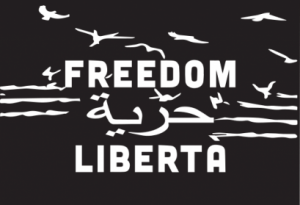 Solidarity is a weapon: report on the two rallies at the Turin court and the detetion center
Posted on No Cpr Torino – on 2021/10/11 –
An important week for the fight against the Permanent Repatriation Centres has just ended. A week in which solidarity and complicity were the core around which two rallies were organised: on Thursday 7 October at the court of Turin and on Saturday 9 October at the CPR (detetion center) in Corso Brunelleschi.
On Thursday 7 October, the first hearing of Operazione Scintilla took place, a trial in which 18 comrades who, over the years, have organised and fought against the former CIEs (Identification and Expulsion Centres), now CPRs, and therefore against the administrative detention of undocumented migrants, were charged and accused. Many people gathered in front of the courthouse to show their solidarity with the accused comrades. Throughout the morning, through the microphones of Radio Blackout live from the garrison, we listened to the voices, the testimonies, the stories of this experience of struggle, later collected in an in-depth that you can listen to here:
https://radioblackout.org/2021/10/speciale-op-scintilla-rivolte-lotta-e-solidarieta/?fbclid=IwAR0wRhqL9y0gNONljCVdBgsX32l3rJxkn4TVt0x0KclO5-Z1c_9XVZXbgbc
It was a morning in which solidarity was repeatedly expressed with all those who suffer state repression in Italy, knowing that investigations will not stop the desire for freedom and the will to fight daily against the suffocating values of this prison society.
On Saturday 9th, voices and cries of protest were raised directly in front of the CPR in Corso Brunelleschi. Solidarists and sympathisers gathered in a garrison for more than two hours, bringing interventions, music and choirs and trying to communicate with the people imprisoned inside these walls. The Administrative Detention Centre in Turin continues to exist, as it does throughout the country (there are a total of 10 CPR). The reception of undocumented migrants is not an exception in state policies, but rather an integral and fundamental part of the mechanisms of exclusion and exploitation put in place by Western democracies.
During the interventions in front of these walls, it was repeatedly stated that the struggle will not stop. Until there is nothing left but the rubble of these structures, there will be rioters inside these walls and comrades from outside who will provide solidarity and complicity and try to support the desire for freedom and the need to rebel against all the cages, prisons and borders.