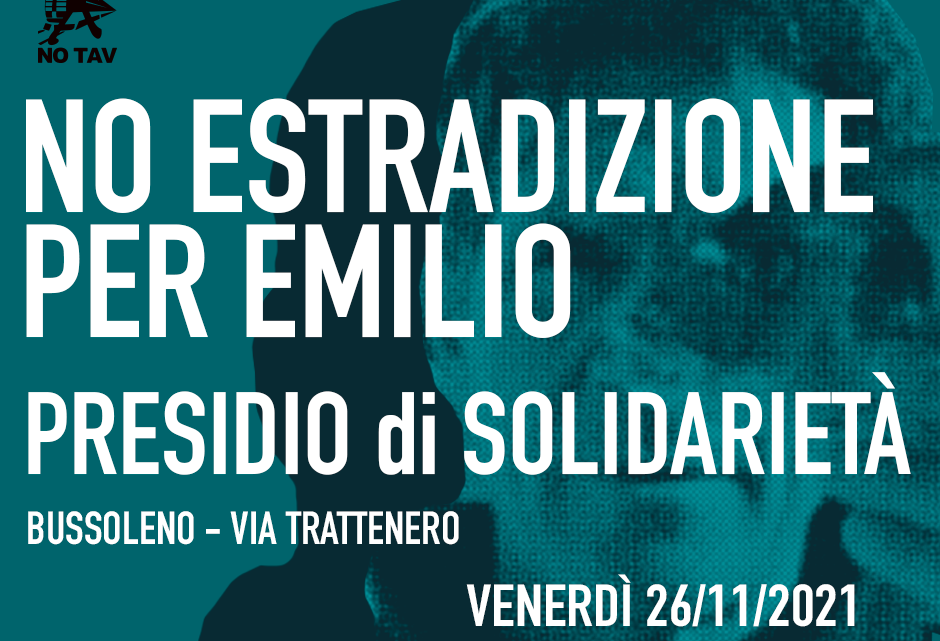 WITH EMILIO ALWAYS! SOLIDARITY PRESIDIUM FRIDAY 26/11 FROM 11AM – BUSSOLENO
from Notav.info
On Friday 26th November, from 11am, we will meet in front of Emilio's house in Bussoleno and together we will wait for the sentence of the Court of Cassation, regarding the appeal brought by the lawyers, linked to the extradition request by France.
Emilio has now been under house arrest for about two months and has given us immense strength, teaching us that in the face of injustice the only thing to do is not to be indifferent. On the contrary, we must show generosity, especially towards the weakest, the last, just like the migrants who risk their lives every day trying to cross the border into France.
The same one that, instead, uses the gendarmerie to reject all those lives fleeing from war and misery, who are only looking for a dignified and free life and future.
Emilio risks extradition to France just because he didn't look the other way, but solidarity is one of the strengths of the No Tav Movement and has always allowed us to overcome even the most complex situations. That's why, from Friday 26th November, we will be back in front of his house, to stay close to him at all times, not to leave him alone.
Free Emilio!