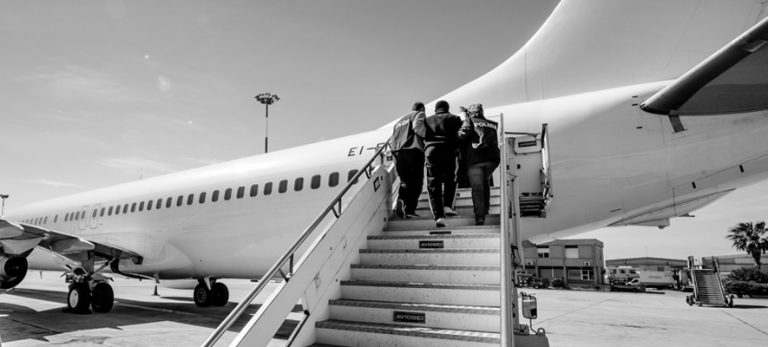 HOW A DEPORTATION WORKS AND WHO PROFITE FROM IT
Published on Nocprtorino.noblogs.org
If you want to understand how the deportations of people detained in the Italian Centres of Permanence for Repatriation are managed, you have to look in the website of the State Police, section Tenders and Contracts and, specifically, in the area of the Central Directorate of Immigration and Border Police. Here you can find documents concerning contracts awarded to airlines that effectively carry out the deportation of undocumented persons from Italian territory to their countries of origin. Each document specifies the number of persons to be repatriated, their nationality, the day of repatriation, the number of cops who will escort them during the trip – cops who are usually three times more than the number of persons to be deported – and the stops the plane will have to make, probably to allow the grouping of persons of the same nationality coming from other CPRs.
On closer inspection, several conclusions can be drawn from these documents:
– There are 9 airlines, called Invited Economic Operators, which are precisely contacted for the procurement of returns. Always the same ones.
-Of these nine companies, only two are actually bidding and actively participating in the tenders.
– Of these two companies, one has a monopoly on the tenders and wins practically all of them.
– The tenders are awarded to the companies approximately 10 days before the repatriation flight, the papers from the Ministry of the Interior are signed a few days after the award of the contract but uploaded on the State Police website later, even two weeks after the deportation has been completed.
– The presumed cost of the deportation service via charter flights is estimated at 40,000 euros or more and less than 139,000 euros, a price which therefore indicates the auction base for the contract.
– The nationality of the persons to be deported is closely linked to the agreements in force on repatriation with non-European countries: first and foremost Tunisia.
– The person who signed the papers is Giuseppe De Matteis, Central Director of Immigration and Border Police, already known for having been the Prefect of Turin until 20 October 2021.
To have a concrete example, we refer to the last announcement published on the site of the State Police: https://www.poliziadistato.it/statics/49/post-aggiudicaz-determina-firmato.pdf
All this information is useful to understand who is directly responsible for deportations, who speculates and profits on the lives of undocumented people by organising forced repatriations and feeding the deportation business.