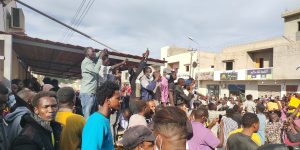 CALL TO ACTION ALONGSIDE THOSE RESISTING IN LIBYA. REFUGEES IN LIBYA: POLITICAL MANIFESTO
CALL TO ACTION ALONGSIDE THOSE RESISTING IN LIBYA
Since 1 October, more than 300 women and several thousand men have been resisting in a permanent garrison in front of the UNHCR headquarters in Tripoli.
Some have escaped from the Libyan camps, others have escaped capture and have decided not to hide any longer: the hope of individual salvation from that hell has given way to a 'collective fight to the death'.
Their demand is the immediate evacuation of Libya to safe countries for all, regardless of migration status.
The Italian authorities, the EU and the UNHCR itself are not only looking the other way, but are also working tirelessly to worsen their position: on the one hand, the Italian state and the EU have further increased their funding for the Libyan torturers, who have murdered dozens of people in this garrison, while the UNHCR has twice called for their immediate eviction.
What have we done in the last 60 days to support this courageous resistance?
In what way have we decided to evade, or not, complicity with these murderous institutions?
We feel the urgency to put in place as soon as possible concrete and determined actions of pressure and active solidarity with this struggle, which concerns everyone who aspires to freedom.
In the coming weeks… be careful!
IMMEDIATE EVACUATION OF LIBYA.
NO MORE FUNDING FOR LAGERS!
FREEDOM, HURRIYA, LIBERTA'
———————————————–
REFUGEES IN LIBYA: POLITICAL MANIFESTO
We are refugees living in Libya.
We come from South Sudan, Sierra Leone, Chad, Uganda, Congo, Rwanda, Burundi, Somalia, Eritrea, Ethiopia and Sudan. We are fleeing civil war, persecution, climate change and poverty by returning to our countries of origin. We were all driven by circumstances beyond human endurance.
We wanted to reach Europe, looking for a second chance for our lives, so we arrived in Libya. Here, we have become the hidden workforce of the Libyan economy: we lay bricks and build Libyan houses, repair and wash Libyan cars, grow and plant fruit and vegetables for Libyan farmers and canteens, mount satellites on high roofs, put up screens etc.
Apparently this is not enough for the Libyan authorities. Our manpower is not enough. They want full control of our bodies and our dignity. What we found on our arrival was a nightmare of torture, rape, extortion, arbitrary detention.
We were subjected to every possible and unimaginable violation of human rights.
We were forcibly intercepted at sea by the so-called Libyan coast guard – funded by the Italian and European authorities – and then taken back to prisons and inhuman concentration camps. Some of us had to repeat this cycle of humiliation two, three, five,
up to ten times. We tried to raise our voices and spread our stories. We have
We have told them to institutions, politicians, journalists but, apart from a very few interested parties, our stories have gone unheard.
We have been deliberately silenced and we have decided to break this silence.
Since 1 October 2021, the day the Libyan police and military forces came to our homes in the Gargaresh neighbourhood and carried out ruthless repression and mass raids against us, thousands of people have been arbitrarily arrested and detained in inhumane concentration camps. The next day, we came as individuals and gathered at the UNHCR headquarters. Here we realised that we had no choice but to start organising. We raised our voice and that of the refugees who have been constantly silenced.
We cannot continue to remain silent while no one defends us and our lives. We are now here to claim our rights and seek protection in safe countries.
So we are now firmly demanding with our voices:
Evacuations to safe lands where our rights can be protected and respected.
Justice and equality for refugees and asylum seekers registered with UNHCR in Libya.
The abolition of funding to the Libyan coast guards who have constantly and violently intercepted people fleeing the Libyan hell and brought them to Libya where they are victims of all kinds of atrocities.
The closure of all detention centres in Libya, which are entirely funded by the Italian and European authorities.
That the authorities bring to justice the perpetrators who shot and killed our brothers and sisters both inside and outside the detention centres.
That the Libyan authorities stop the arbitrary detention of people at the UNHCR office.
Force Libya to sign and ratify the 1951 Geneva Convention on Refugees.
FREEDOM, HURRIYA, LIBERTE'!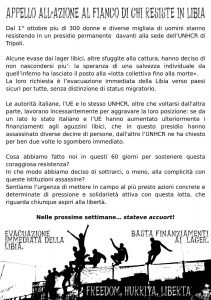 download here the political manifest
Lybia-Manifesto-ITA