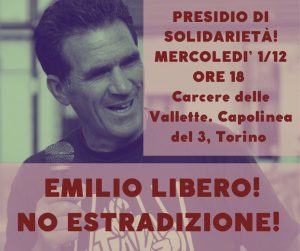 EMILIO ARRESTED. DEMONSTRATION AT THE "VALLETTE" PRISON TODAY AT 6 PM
Today, at about 1.20 p.m., the DIGOS (political police) of Turin showed up at Emilio's house. Escorted by several lorries of riot police, which blocked the main road and the entrances to the house, the plain-clothes guards climbed over and forced the gate and took him away.
On the order of the General Prosecutor, they aggravated the precautionary measures, and for "security issues" and public order, they took away his house arrest and brought him back to jail, at the Vallette in Turin.
In practice, the Turin court was afraid of making a bad impression and of not being able to hand him over to the French in time, given the strong solidarity of the valley that had rallied around him. So they decided to arrest him immediately, in order to proceed calmly with his extradition.
The supporters present, thanks to the permanent demonstration in front of his house, greeted him in anger in the name of the whole valley and all those who are fighting against injustice in this world.
Let us not leave him alone!
Today at 6 p.m. demonstration at the Vallette of Turin!
EMILIO FREE!!!
NO EXTRADITION!