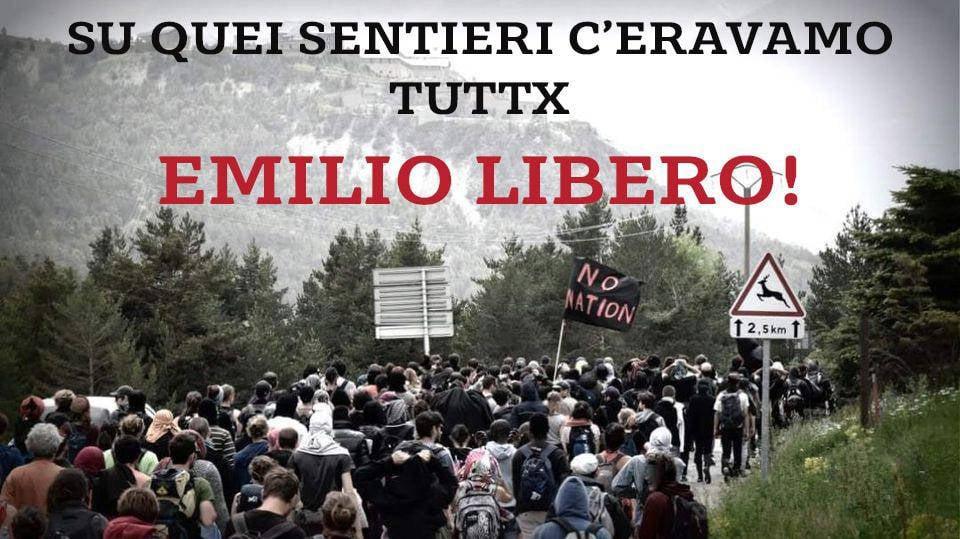 PRESS RELEASE – EMILIO FREE! MANIFESTATION IN FRONT OF THE AIX-LUYNES' PRISON
Source: Emilio Libero – Comitato di solidarietà
Next Saturday, the 12 of February, we will be in France, in front of the Aix Luynes prison, where Emilio Scalzo, one of our comrades and brothers, an activist of the NO TAV and NO BORDER movement, is being deteined.
Emilio has been hit by a European arrest warrant, requested by the court of Gap and granted by the Italian judicial bodies, and has been imprisoned in France since 3 December 2021.
During one of the demonstrations we have been holding for years at the Montgenèvre border, one of the symbolic places to denounce the persecution of migrants by European states, Emilio ha been accused of violence against a French gendarme. If the right to resistance and self-defence is a crime, we are all accused of it.
He is now in prison, waiting for the trial, under an unprecedented measure of preventive extradition.
His crime? That of solidarity. He is a righteous and mild-mannered man, who for years has been committed not only to protecting the environment, but also strongly in defence of the last ones, women, men and children who daily travel through the Susa Valley, hoping to reach France, where many have relatives and where they all hope to find welcome and dignity. They are not tourists, but people fleeing war, hunger, the robbery of natural resources, people seeking to determine their own destiny, outside the borders to which the colonialism and imperialism of the North of the world have condemned them, and which is now raising armed border walls against them.
In our mountains, where the armed border runs, it is not the winter that is claiming victims, but the violence of the police and the states that have already caused the death of at least 9 people, of which 2 since the beginning of the year.
Emilio has been working for these humiliated and offended people for years, concretely supporting them with his strong and gentle hand.
But Emilio is not alone: with him there is the NO TAV movement, there is the Susa Valley that the transversal party of business and war would like to degrade ecologically and socially to a transit corridor dedicated to goods, capital and armies and denied to people. And there are those who fight against social injustice, because they continue to feel on their cheek the slap given to anyone, from anywhere in the world.
Against the power that responds to needs with repression, for the popular self-defence of the last and the persecuted, against the prison response to the exploited and those who struggle, we call for the commitment of all.
We invite you to participate with us in the solidarity garrison for Emilio and for all prisoners, against all borders.
SATURDAY, FEBRUARY 12, 2022, 2 p.m.
AIX LUYNES PRISON
EMILIO FREE, FREE NOW!
ALL FREE
Emilio Libero – Solidarity Committee