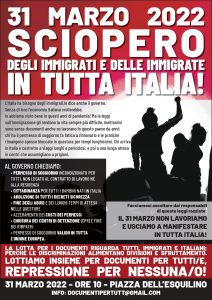 MARCH 31ST, 2022 STRIKE OF IMMIGRANTS AND IMMIGRANT WOMEN ALL OVER ITALY!
Published on 15/03/2022 by hurriya
Italy needs immigrants, the government says so too. Without them the Italian economy would collapse, we have seen this well in these years of pandemic! But immigration laws are making life increasingly difficult for them. Many have no papers, even though they have been working in this country for years; those who have a residence permit find it difficult to renew it and the paperwork is often blocked at the police headquarters for very long periods of time. Those who arrive in Italy are forced to make long and dangerous journeys, and then to wait in centres that resemble prisons.
WE ASK THE GOVERNMENT:
∙ an unconditional residence permit for all, not linked to a work contract or residence.
∙ citizenship for all children born in Italy
∙ abolition of all security decrees
∙ end of abuses and long waiting times at police headquarters
∙ elimination of permit costs
∙ closure of detention centres (CPR) and end of repatriations
∙ residence permits valid throughout the European Union.
Let us make those responsible for these racist laws listen to us:
On the 31st of March, let's not work and go out to demonstrate all over Italy!
The fight for documents concerns everyone, immigrants and Italians; because discrimination feeds divisions and exploitation. Let's fight together for documents for all, repression for none!
31st March 2022 – 10am – Rome, piazza dell'Esquilino
Info: documentipertutt [at] gmail.com
Download the poster in pdf format
Here is the correspondence on Radio Onda Rossa with a comrade and a comrade who told about the press conference that took place on 12 March to launch the strike of immigrants that will take place on 31 March at 10 am in Piazza dell'Esquilino.