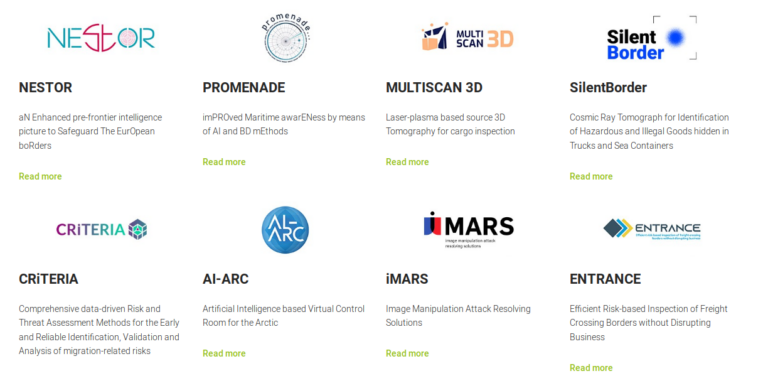 Narrow Horizons. About Horizon Europe, Nestor and border control
published by No Cpr Torino on 21/04/2022
What is Horizon Europe?
Horizon Europe is the EU's main funding programme for research and innovation with a budget of €95.5 billion.
It has three specific programmes, one generically oriented towards 'civil' research, one with an exclusive focus on defence research and development (called  European Defence Fund – EDF), and one on nuclear fusion and fission research and training (EURATOM).
With Horizon 2020 first (the programme that under the heading 'CHALLENGES FOR SOCIETY – Secure Societies – Protecting the freedom and security of Europe and its citizens' ran from 2014 to 2020) and Horizon Europe (running from 2021 to 2027) now, the EU aims to boost its innovation capacities and ensure its global competitiveness.
The border security projects funded by the Horizon programmes cover a broad spectrum of crucial technological capabilities for the European Border and Coast Guard  FRONTEX such as unmanned vehicles, document identification systems, systems to digitise an increasing amount of personal information and biometrics, remote command and control systems, artificial intelligence, robotics, augmented reality, integrated data processing platforms. The investments made in the area of 'border security' are vital to ensure that Frontex achieves its strategic objectives. Conversely, Frontex's active participation in testing, trial activities and application demonstrations of the technologies produced is also crucial.
A special section of the Frontex website publishes information about the activities carried out by the agency and descriptions of related Horizon projects, one more chilling than the other.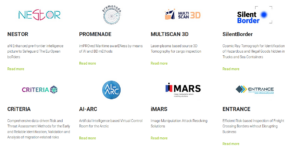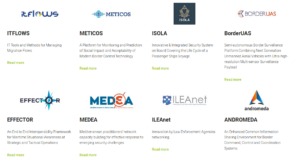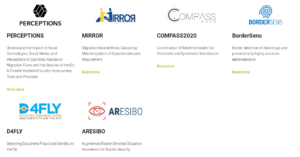 Let's open, for example, the page dedicated to NESTOR ((aN Enhanced pre-frontier intelligence picture to Safeguard The EurOpean boRders) which deals with the realisation of 'long and wide-range border surveillance systems, pre-frontier situation monitoring, thermal detection technologies, radio frequency spectrum analysis, inter-functional sensor networks, fixed installations and manned or unmanned mobile vehicles'.
The objective of the project is to realise "a new generation fully functional holistic border surveillance system providing pre-frontier situational awareness across sea and land borders, following the concept of integrated European border management. NESTOR's long-range and wide-area surveillance capabilities for the detection, recognition, classification and tracking of moving targets (e.g. people, ships, vehicles, drones, etc.) are based on optical, thermal imaging and radio frequency (RF) spectrum analysis technologies powered by an interoperable sensor network comprising fixed installations and manned or unmanned mobile vehicles (airborne, land-based, aquatic, underwater) capable of operating either as standalone, tethered or in swarms. The NESTOR BC3i system will fuse real-time border surveillance data combined with web and social media information, creating and sharing an intelligent pre-frontier picture for local, regional and national command centres in an interoperable AR environment with CISE and EUROSUR."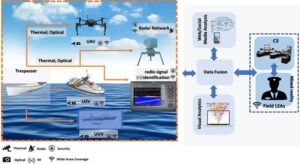 Elistair drones in the Nestor technology system detect an 'offender'
On the Cordis page, in addition to the objectives of the project, we find information on funding, duration, the programmes to which it is linked (we find Secure societies – Protecting freedom and security of Europe and its citizens but also Strengthen security through border management), information on the coordinator (in this case the Greek police) and the various collaborators with their respective funding. The latter are not only the various ministries and police forces but also include the remunerated participation of universities and private companies from all over Europe, including Italy.
In other cases, e.g. in theBorderUAS project, which is developing 'a lighter-than-air unmanned multi-role aerial vehicle with multi-sensor detection and ultra-high resolution video surveillance', the coordinator is a software company, while private collaborators provide the specific audio-visual technologies, provide the remote sensing engineering services, such as  DIAN, or, disturbingly enough, provide a cross-border legal framework, such as the NGO  Mitla.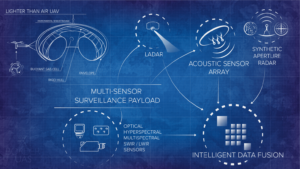 The description continues: 'remote sensing will include synthetic aperture radar (SAR), laser detection and ranging (LADAR), short/long-wave infrared (SWIR/LWIR) and acoustic cameras for direct target detection, as well as optical and hyperspectral cameras for indirect/disturbed detection (from vegetation for example).' As far as state collaborations are concerned, "the technology will be tested by grassroots police along illegal border crossings in Greece, Bulgaria, Romania, Moldova, Ukraine and Belarus."
These are just two examples of the close cooperation between Frontex and numerous different partners. Nor can we forget the marriage with Israel Aerospace Industries (IAI), Israel's leading aeronautical industry producing civil and military aeronautical systems and various missile and avionics systems.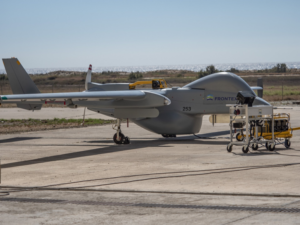 The thin rhetorical line distinguishing between war and 'border defence', between 'irregular immigrants' and 'targets' is increasingly blurred in a violent and securitarian public discourse.
In this panorama of ordinary repression, where, let us remember, it is companies and universities that are fattened up by lavish European funding, smart and technological borders seem to be tightening without interruption and are reflected in those control devices that even in the streets and squares of our cities create invisible and concrete borders.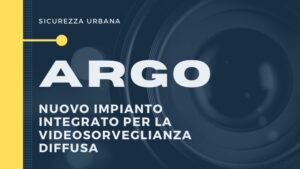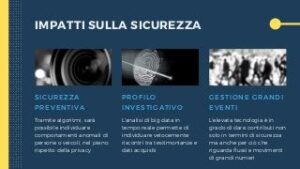 "I walk two steps closer, she walks two steps further. I walk ten steps and the horizon moves ten steps further away. No matter how far I walk, I will never reach her. What is utopia for? That's what utopia is for: walking.