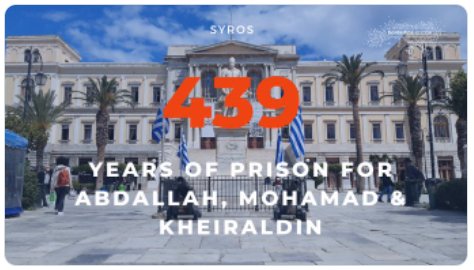 Greece: 439 years in prison for three shipwreck survivors accused of being traffickers
By Infomigrants – Translation –– Published on : 06/05/2022
It is a common practice of the Greek justice system, which hit hard on Thursday: three migrants were sentenced to very heavy prison terms for "facilitating the illegal entry" of exiles into Greek territory. They were among the survivors of a major shipwreck in December 2021. Between them, their accumulated sentences amount to 439 years in prison. The NGOs denounce, once again, a trial against them.
Three Syrian migrants, Abdallah, Kheiraldin and Mohamad, were sentenced on Thursday 5 May to 439 years in prison for "aiding illegal entry" into Greece. All three were on the same boat, rescued after a shipwreck off the island of Paros in December 2021.
One of them was sentenced to 187 years in prison as "captain" of the boat, the other two to 126 years each as "assistant" and "mechanic", reports German NGO Borderline Europe.
"Despite the fact that the court recognised that they were not human traffickers acting for profit, and dropped the charge of 'participation in a criminal organisation' […] these three fathers were still convicted of 'facilitating illegal entry' into Greece," the NGO denounced on Twitter.
Survivors of a shipwreck
The three men were among the survivors of a large shipwreck that occurred on 24 December 2021. On board their boat were more than 80 Syrian and Turkish nationals. After about ten hours, bad weather conditions had damaged the engines. Eighteen people lost their lives in the shipwreck off the island of Paros.
The Greek coast guard then tried to determine responsibility by questioning survivors about the boat's pilots. "The survivors testified that the trip cost between 7,000 and 10,000 euros per passenger. Some had sold all their belongings to be able to afford it," says Borderline Europe, which conducted a detailed reconstruction of the crossing.
>> Read more: Greece imprisons thousands of migrants 'to deter others from coming'
Abdallah and Mohamad were 32 years old at the time, and are both fathers of four children. Kheiraldin was 39 years old and has two children. None of the three men had been able to raise such a large sum. "However, they had mechanical knowledge that they could offer as payment. Therefore, they agreed to carry out piloting tasks in exchange for a lower price,' the NGO explains in its reconstruction.
In their defence, the three Syrians testified that they eventually refused to drive the boat, which they considered too loaded. But "they were forced by Turkish traffickers to take control of the boat at gunpoint," said one of their lawyers, Alexandros Georgoulis. "All of them reported being kept in a house by armed Turkish traffickers until the boat left.
The NGO said the fact that exiles pilot their own boats was a "common practice" on this sea route. Some do so in exchange for a smaller sum, others are forced to do so by smugglers when they embark.
The madness of draconian laws in Fortress Europe
During the trial, "the relatives confirmed their statements. An expert explained that it is not the smugglers but the migrants who have to drive the boat. The prosecution's witness, a port police officer, did not show up," Borderline Europe described live from the court.
A regular practice of Greek justice
In Greece, this kind of conviction is not uncommon. It is even a widespread practice of the justice system, documented in a joint report by three NGOs, published in late 2020.
Currently, almost 2,000 asylum seekers are locked up in the country's prisons for illegal migrant smuggling. All of them were sentenced to heavy penalties after being found guilty of driving the boats they were in. In addition to being accused of acting as smugglers, they are sometimes held responsible for deaths during the crossing.
In the case of the three men, the penalties are particularly severe. However, there are other similar cases. Mohamad Hanad Abdi, for example, a 27-year-old Somali, was sentenced to 146 years in prison in May 2021.
Due to the regularity of these trials, exiles convicted on these grounds represent the second largest category of prisoners in Greece.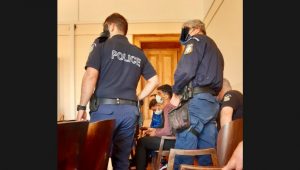 In December 2022, two men will be tried on appeal, each sentenced to 50 years in prison. As in the case of the three from Paros, the judges did not accept the coastguard's version of the charges, which accused them of endangering the other occupants. But they had added the charge of aiding illegal entry.
"They are accused of being smugglers, but this is not based on anything. The coastguard testimony on which the whole procedure was based did not even mention this. They are exonerated for endangering others, but then another charge is added, it doesn't make sense," Marion Bouchetel of the Lesvos Legal Centre, a Greek NGO defending one of the two men, told InfoMigrants in April.
Originally, the boat on which Abdallah, Kheiraldin and Mohamad were on was supposed to continue its journey to Italy. Avoiding Greece, then. "The question that arises is why they didn't stop on a Greek island [while the boat was sinking]. What were they afraid of?" commented their lawyer Alexandros Georgoulis. "This question can lead us to the real criminal," he concluded. "Namely 'Fortress Europe'."