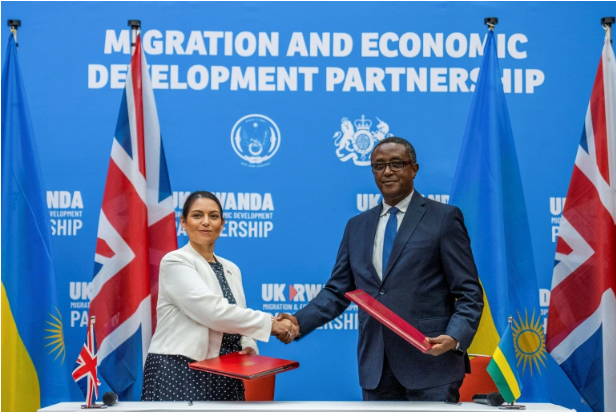 FROM UK TO DENMARK: EXTERNALISATION OF ASYLUM CLAIMS TO RWANDA
On 14 April 2022, the United Kingdom, in the person of Home Secretary Priti Patel, signed an agreement with Rwanda, the 'Migration and Economic Development Partnership'. That is: money and investment in return for the outsourcing of thousands of asylum applications. 120 million pounds per year (about 144 million euros) will be paid by the UK to the Rwandan authorities to manage and hide thousands of people who land on British shores 'illegally'. Along with the plan, UK Prime Minister Johnos announced a further £50 million investment to strengthen patrolling of its borders, and that he will also deploy the navy – the Royal Navy – 'to patrol the English Channel against illegal immigration'.
The outsourcing of borders, through and through, is nothing new. For years the British government had been looking for a state to deport immigrants it did not want. It had tried with Albania, with Ghana. In vain. A month ago, the agreement. Just this week England announced that soon will have the first deportation flight to Rwanda of at least 50 asylum seekers.
Not only Rwandans, but anyone who is illegal by the standards of British 'law' could be deported to Rwanda; the person does not even need to have passed through that country on their way to Euopa. Anyone who is not accepted by the United Kingdom, and potentially of any nationality, can therefore be sent to Rwanda; in this way, bilateral pacts with all the countries of origin of people emigrating are not even needed, the money and arms that are normally given by European countries to African or Asian governments to accept repatriation agreements for their fellow citizens will no longer be needed; all 'foreign' people can be sent to Rwanda, even if they have never crossed that land
Denmark is immediately trying to duplicate the British scheme and negotiations with the Rwandan government are, in the words of the Danish government, 'well advanced'.
In practice, according to the PM's words, all migrants (according to some newspapers it will only be adult males without families) who arrived from 1 January 2022 onwards in makeshift boats can be deported to Rwanda to process their asylum claim, and even if it is approved, return to the UK is not considered. People will be allowed to remain in Rwandan territory in accordance with the law of the country.
The text of the MoU states: "given that migrants and refugees make perilous journeys across borders and even oceans in search of safety and economic opportunity, fleeing armed conflict, famine, climate change and other hardship in their countries of origin, and that the mass movement of irregular migrants organised by people smugglers is overwhelming the international asylum system" and therefore wishing to "counter the business model of people smugglers, protect the most vulnerable, manage the flows of asylum seekers and refugees and promote durable solutions" it is agreed between the two states to initiate a "mechanism for the relocation of asylum seekers whose claims have not been considered by the United Kingdom, to Rwanda, which will examine their claims and resettle or deport (as appropriate) persons after their claim has been decided, in accordance with Rwandan domestic law".
Johnson pointed out that the agreement with the African country has no limit on numbers and that Rwanda 'has the capacity to accommodate tens of thousands of people in the years to come'.
The agreement comes after 2021, when more than 28,000 people crossed the Channel in makeshift means in the United Kingdom. In 2020 there had been just over 8 thousand.
British racism and opportunism is the same as that of the European Union: the UK opens its doors to Ukrainian refugees, and deports those who by race, religion, and economic skills are not 'interesting' and exploitable for the country.
Rwanda, a country known for the systematic violation of so called "human rights" with endless torture and detention, where in 2018 a dozen refugees were killed by Rwandan police after protests outside the UNHCR headquarters in Kigali, for its part, is quite happy to receive millions of euros from the various European governments and also to have thousands of "exploitable" people in its expanding economy.
The agreements between the UK and Rwanda smack very much of neo-colonial policies; Rwanda, as the case may be, not only has a mining industry of tin, gold, tungsten and methane ores, but is also home to Lake Kivu, enormously rich in gas and a potential source of power generation.
Other cases of externalisation 
The British model copies the murderous and deterrent tactics of the Australian government, which since 2001 has arrogated to itself the right to detain 'irregular' migrants and transfer them to remote government-established facilities in third countries, such as the Papuan island detention centre in Manus and the one in Nauru.
Refugees would be held indefinitely in the centres, without the possibility of appeal to a court, while waiting for their asylum claims to be processed through a 'remote trial'.
Another example is Israel, which since the beginning of 2018, has started deportations of Sudanese, Eritrean and Ethiopian immigrants to Uganda and Rwanda, in exchange for money. About five thousand dollars per refugee, according to some NGOs. We are talking about more than 40 thousand people relocated in a short time.
Denmark, after the law passed in June 2021, has completely closed its borders to asylum seekers, and has begun the search – perhaps now over – for a country where to deport the migrants it does not want, but also where to leave those who will obtain refugee status, who in any case will not be readmitted to Denmark.
The European Union, although in words condemning the new British law, is moving in exactly the same direction. For years it has been looking for countries to which it can outsource asylum claims, and Niger would like to be the future country to which it will send all migrants the EU rejects without having to go through bilateral repatriation agreements and also the one where the EU would like asylum claims to be processed.
The UNHCR itself, despite its criticism of Johnson's government decision, has been 'evacuating' migrants from Libya to Rwanda since 2019, transferring them from Libyan centres and prisons for 'further solutions', including resettlement, voluntary return to countries of previous asylum, voluntary return to countries of origin, or local integration in Rwanda.
Same opportunism, same crap.
Against every state, against every border.