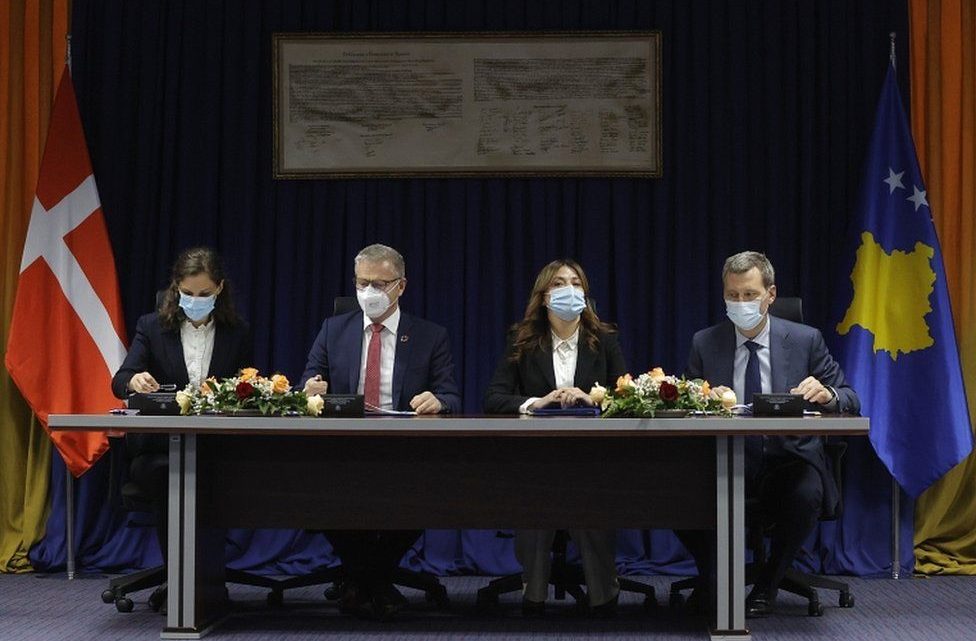 DENMARK OUTSOURCES PRISON FOR FOREIGN DETAINEES IN KOSOVO
They externalise borders. They externalise the prisons.
They push away the immigrants, they push away the undesirables. Those who do not serve the system, the 'useless', the damned of the earth. Out of sight, out of mind. Differentiate, select, punish. This is Danish policy, in line with European policy. But which has now taken a step forward.
Denmark opens a 'penal colony' in Kosovo. 300 places for migrants, or rather immigrants convicted of a crime in Denmark, starting in the first half of 2023. This is the result of the agreement signed on Wednesday 27 April 2022 between Copenhagen and Pristina on which the governments of the two countries had been working for months (a first agreement had been signed in December 2021). 15 million per year, for 5 years, renewable for 10 years. Plus EUR 5 million in advance for the renovation of Kosovo's detention facilities. And 6 million investment in the so-called 'ecological transition'.
After the 2021 law on the externalisation of asylum applications, which now seeks implementation with Rwanda, here is the pact to externalise the detention of immigrants. Differentiation in differentiation, selection and exclusion in the already excluded. Dividing even detainees on the basis of nationality and the piece of paper they have or do not have.
In Danish rhetoric, the reasons are prison overcrowding and a decrease in guards; since 2015, the prison population has grown by 19%, from 3,400 to 4,200, while the number of 'correctional officers' – the cops – has dropped from 2,500 to 2,000. The government plans to reform the entire prison system and has allocated 6 billion kroner, or about 538 million euro, for this. But that is not all. "Denmark is also sending a clear signal to foreigners sentenced to deportation: your future does not lie in Denmark, so you will not serve your sentence here either," explained Nick Haekkerup, until a few weeks ago Danish Minister of Justice, in recent weeks. The intention has always been the same, for years now: to discourage migrants from going to Denmark, and to punish in an 'exemplary' manner those who are already there. Even more so those who have dared to oppose the Danish law.
"One of the advantages of this measure is that (the prisoners) will not have to be re-socialised to return to society, because they will not have to be in Denmark afterwards. Therefore, we can conveniently move the whole group so that they serve somewhere else,' he told Danish radio station Hækkerup.
The Danish 'scheme' is crystal clear and has been put into practice for several years (in 2018, the previous government considered confining prisoners on the uninhabited island of Lindholm, a kind of Scandinavian Alcatraz: a project that was later cancelled 'due to excessive costs').
Between 2020 and mid-2021, Denmark revoked, or did not renew, the residence permits of some 400 Syrian refugees, going so far as to claim that: 'the civil war in Syria is now in its final stages and Damascus is a safe place'.
The number of refugees seeking asylum in Denmark has fallen steadily in recent years (from over 11 thousand applications in 2015 to 342 in the first half of 2021), and it is precisely because of the 'success' of the strategy that life continues to be made difficult and uncomfortable for immigrants with ad hoc laws. Such as the one voted last September to force migrants to work at least 37 hours a week if they want to continue to benefit from state subsidies. The rule still has to be approved by parliament. Or like the law, passed in 2016, which authorised the confiscation of jewellery and assets over 10 thousand kroner (1350 euro) from migrants, to cover reception costs.
We hate prisons, whatever state and flag they belong to, let's be clear.
But we would like to emphasise the violence of sending the prisoners who will be affected by this pact thousands of kilometres away from their friends, family and companions.
The prison chosen is Gjilan, about 50 km from Pristina. A nowhere land, where the detainees will have no possibility to have talks with a lawyer they trust, with no more contact with their families and friends – who will have just "some difficulty" in visiting their relatives thousands of kilometres away – without even knowing which rules, whether Kosovan or Danish, will be applied to the prison, without even knowing in which language they will be able to address the guards and prison staff.
Kosovo, for its part, is quite happy with the Danish investment and money, as well as considering the agreement a good presentation of 'reliable partner' to EU countries, given its ambition to join the EU.
Other examples of outsourcing of prisons
A similar agreement (apart from the distinction between immigrant and non-immigrant detainees) was made between Belgium and the Netherlands in 2010 to allow the former to use a prison on Dutch territory, about thirty kilometres from the border between the two states, to cope with an overcrowding situation, which ended in 2016 with the commissioning of new institutions in Belgium. The whole operation took place under the auspices of the Council of Europe and the CPT.
Another temporary agreement had been reached between Norway and the Netherlands in 2015 with the provision of a prison in the Netherlands, again to cope with temporary overcrowding: in 2018 the lease ended and the inmates were returned to facilities in Norway.
Now we are at the union of the outsourcing of borders and jails.
In this time of covid, war, economic depression and constant media terrorism, the various governments are passing laws and legitimising previously almost unthinkable dynamics, from which we will not turn back. These rapidly advancing outsourcing practices are just one piece of a larger and very dangerous dynamic against which we should concretely begin to organise ourselves.
Against every jail, against every border!