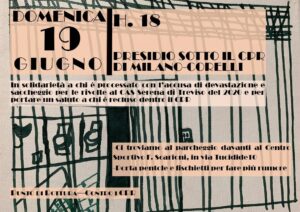 Milan – 19 June garrison at the CPR (Detention centre)
Published on 20/05/2022 by Hurriya
Source : Punto di rottura – Contro i Cpr
GARRISON AT MILAN'S DETENTION CENTRE – SUNDAY 19 JUNE 2022 – 6PM
In solidarity with those being tried on charges of devastation and looting for the riots at CAS Serena in Treviso in 2020 and to bring a greeting to those imprisoned inside the CPR (Centre for Permanence for Repatriation).
event link
MEETING POINT: meet at the car park in front of the F. Scarioni Sports Centre in via Tucidide, 10, Milan
Bring pots and whistles to make more noise.
Since September 2020, the CPR has opened again in Milan, a constant threat for those living without legal papers and a place where every aspect of life is trampled underfoot.
Inside, conditions are terrible: from poor quality – and often expired – food to prescription psychotropic drugs, from a lack of medical care and legal support to unacceptable standards of hygiene.
The CPR represents only the last link in the deadly chain of selection and exploitation constituted by migration management.
In 2020, a protest broke out in the CAS Serena in Treviso related to the total absence of health protection at the time of the COVID-19, exacerbated by the structural conditions of overcrowding, absent medical care and collaboration between health workers and police. On 30 June 2022, the trial for the riot at CAS Serena will be held in Treviso, where the defendants will be charged with kidnapping and devastation and looting.
The accusation of devastation and looting is increasingly misused, not only during demonstrations and street protests, but also to harshly repress riots in closed and controlled places, as was also the case for the protests that inflamed prisons in March 2020.
In SACs, CPRs, prisons, as well as in the streets and squares, the management of the pandemic has been an opportunity to accelerate control and repression, exclusion and sacrifice.
That is why we invite you to a garrison in front of the CAS in via Aquila and the CPR in via Corelli in Milan, to bring greetings to those who are locked up and in solidarity with those who are on trial for the riots.