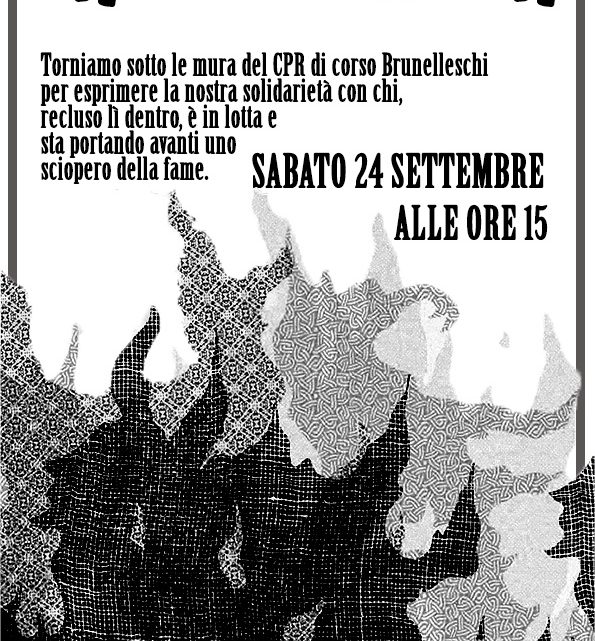 DEMONSTRATION AT THE DETENTION CENTER OF TURIN – Saturday 24 September
https://gancio.cisti.org/event/presidio-sotto-le-mura-del-cpr-1
On Saturday 24 September at 3 p.m., we will return under the walls of the CPR in Corso Brunelleschi to bring our anger and support the struggle of those who, imprisoned there, are carrying out a hunger strike.
The protest has been going on for more than a week, undertaken with strength and determination, since some thirty Tunisians, who had just landed in Lampedusa, were transferred and locked up inside the CPR of Corso Brunelleschi after being evidently hindered in their attempts to apply for asylum. All this while the weekly deportations to Tunisia, guaranteed by international agreements between the Italian and Tunisian states, continue. Once again, the usual relay mechanism that bounces people from one side of Italy and the Mediterranean to the other in an attempt to marginalise and isolate them is revealed. It is the creation of bonds of solidarity, tending towards self-determination and freedom, that is frightening.
A few weeks after the umpteenth suicide in the CPR of Gradisca d'Isonzo and while a hunger strike is taking place in the prison, started after the last of an unfortunately long series of suicides that also took place in this detention facility, we continue to bring our solidarity to the inmates fighting inside the CPR of Turin.
FIRE AT THE DETENTION CENTERS!
FREEDOM, HURRIYA, FREEDOM!