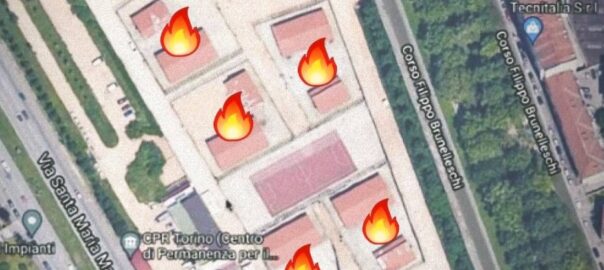 UPDATE FROM TORINO'S DETENTION CENTRE OF 20.02.2023
Published by no cpr torino on 21/02/2023
On the evening of 20 February 2023, the few dozen inmates remaining in the only area spared from the recent riots against the CPR in Turin once again gave rise to an important and disruptive moment of struggle.
The fire broke out inside the Green area. The entry of the fire brigade, which had been in permanent garrison within the walls of Corso Brunelleschi since the last riot, was slowed down, giving the flames enough time to make the last remaining area of the Turin lager (perhaps completely) uninhabitable.
A large deployment of police, carabinieri and financial police raided the area shortly afterwards, beating the inmates to a pulp. From inside, the accounts clearly describe the images of blood on the ground mixed with water forcefully shot from fire hoses to put out the fire that destroyed the area.
As a result of the police beatings, some inmates are currently in a serious condition. All of them, about forty people, are now sleeping without blankets or mattresses in the area's mess hall. For a few hours they were literally seized by the policemen, surrounded and beaten.
Particularly when the solidarists arrived outside the walls of the centre, the police prevented access to the telephone booths in order to cut off all communication with those who had come to show solidarity with the rioters.
In the last few days inside the Green area, a large scabies epidemic had spread quickly due to the repeated neglect of internal sanitary management.
About twenty inmates had decided to go on hunger strike against the reprehensible conditions reserved for them by the administration.
Some of those beaten up by the police during the first days of the riots had never been taken to hospital, although in some cases they complained of broken bones. The beatings had also continued over the next two weeks. The food delivered to the inmates was, as always, either expired or full of insects or, to forcibly sedate them, stuffed with psychotropic drugs.
Once again, anger flared up thanks to the tenacity of the inmates, putting a strain on a facility that could be completely uninhabitable from tomorrow.
CPR'S ARE CLOSED WITH FIRE.
FIRE AT THE CPR!
#FREEDOM #HURRIYA #AZADI #LIBERTA'