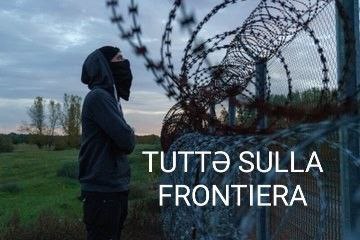 LET ALL BORDERS BE TURNED UPSIDE DOWN!
by No Cpr and No Frontiere – Trieste
🛑FREEN 11/08 at 19:00 // piazza Libertà, Trieste, public assembly
🟪SATURDAY 13/08 at 18:00 // Fernetti border car park, presidium
**let's allə in the spread!* (with Burjana)
Another life died, Moussa, a young Guinean, as hope moved his legs through the last obstacles of the mincer, on the Montgenèvre border on Monday (https://www.passamontagna.info/?p=4548).
Another life is dying, a young Pakistani man who fell on a building site, transported like rubble to be hidden while working exploited in Trieste, on Tuesday (https://www.triesteprima.it/…/cantieri-trieste…).
To the atrophy of the aseptic counting of the dead, to the catatonia of impotence and fear, let us respond with passion, tears, and anger: let us rekindle the need for justice in our veins, the courage for which even under a regime we can respond, the generosity that privilege allows us to use.
Let us respond united and determined to the origin of it all: the border. We respond for ourselves, for our humanity. We respond because it is intolerable that this meat grinder exists to provide exhausted and exploitable lives for western capitalism.
Let us all feel the moment, because the number determines the scale: for the first time we are disturbing the eastern border.
Let's make visible that symbol of death, open only to acceptable goods and documents, closed to the hope of a better existence. For life, for humanity, because united we must and can react.
-> Here everything https://laburjana.noblogs.org/…/11-13-08-che-si…/