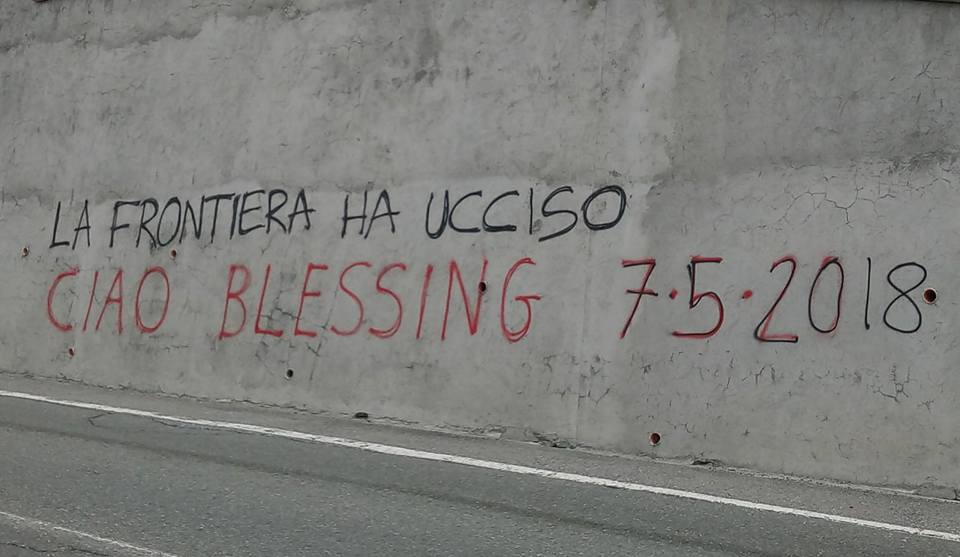 The border and its cops kill again
Another death.


Another person killed by the border and its guards.
---
Another death. Another person killed by the border and its guards. Another body, which joins the thousands of people who died off the Italian coast, under trains between Ventimiglia and Menton, or on the alpine roads leading to France.
Derman Tamimou, 28 years old, from Togo. That's all we know at the moment about the very young body found lying on the side of the road to Briançon between Italy and France. It is the 4th body found in this valley since France closed its borders with Italy in 2015. Since the police controls every bus, every train, every car, in search of strangers. And those with a darker skin color, those with a slightly different accent, or carrying a traveler's backpack, are taken down and controlled. If you do not have the right documents, you are directly brought back to Italy. You are often threatened and robbed by the PAF (Border Police).
On February 7, 2019, a body was found. Another person killed by border control. Another life shattered by these uniforms patrolling around a line drawn on a map, called the border. Killed by disgusting politicians who want to protect this border.
Another state homicide.
Because it is not the snow, the cold or the fatigue that has killed people in these mountains. The culprits are quite different. They are the cops, who try every day to prevent dozens of people from continuing their journey for the self-determination of their lives.
They are the States and their governments that are the real responsible and the real reasons for the very existence of borders.
Another body, the fourth after Blessing, Mamadou, and Ibrahim. Rage and pain are mixed with hatred. Pain for another death, for another unjust end. Rage and hatred towards the real culprits of this death: the borders, the different national police forces that protect them, the States and the policies that create them.
Against all States, against all borders, for the freedom of all to choose which part of the world to live on.
---
Let's take down the borders, let's organize together!