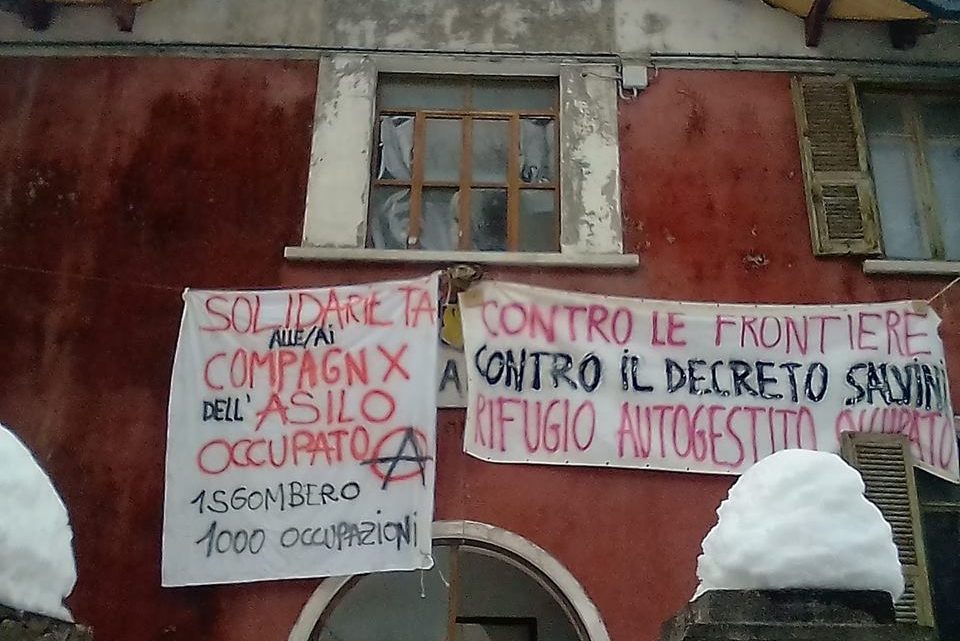 IN SOLIDARITY WITH THE COMPANIONS FROM THE ASILO OCCUPATO WITH ANGER IN OUR HEART
They cleared out the Asilo Occupato.


They arrested 6 comrades on charges of terrorist association for subversive purposes.
---
They have beaten and tried to repress all forms of solidarity that were tried to bring to the comrades under eviction and arrest.
This opens a new chapter in the history of the Turin movement, as well as in the history of this country.
The state has declared open war to any occupation and any group or person that organizes itself against this increasingly fascist and totalitarian system.
The Asilo had been living for 24 years. It has been a place of meetings, debates and reflections for thousands of people. Space to organize oneself in the struggles; to share dinners and moments of celebration.
It was annoying in a neighborhood in the process of gentrification, where economic powers – and politicians – such as Lavazza or the "Big" "schools". (Holden etc) have grafted their logistical bases. It was annoying because it went against everything these powers preach. It was annoying because it kept going down the street. Because he kept fighting. To organize itself against evictions, against that gentrification that throws the poor further and further away from the centers and kills the working-class neighborhoods. To fight against the CIEs, now CPR, and their system of selection and exclusion that grinds lives on the basis of the possession or not of a document.
It is clear that the will is to destroy every place of self-management and self-organization. To leave no more space for those who think and organize themselves to live differently.
This yellow – green government has chosen to be the definitive executioner in this mechanism of totalitarian repression that has been going on for some time.
Policies increasingly murderous, racist, xenophobic, pure war on the poor and those who organize themselves against them. As in Turin, with a hanger that congratulates the police for the massacre of the Asilo that just happened.
The 270 bis had not been used for some time on Turin as a repressive strategy. The accusations of terrorism allow long preventive detention in prison. A good way to continue to attack a group of comrades who have never grown tired of fighting.
They have been accused of everything that has happened in Italy against the CPR and deportation management companies; they have been accused of fomenting riots in prisons for "irregular" migrants.
The fear that the exploited will join forces, linked to the new rampant racism, is what supported this repressive manoeuvre.
This eviction and these arrests – with such an absurdly spectacular accusation – are a test case for the government and its war just opened to occupations thanks also to the new "Security" Decree of the clown in green.
Let the answer be general, in every city and in every district.
All our solidarity with the companions arrestated.
A strong embrace full of anger to all the other comrades evicted.
A smile accomplice to the companion they failed to arrest.
That from this eviction 1000 occupations are born.
LET'S ORGANIZE OURSELVES.
---