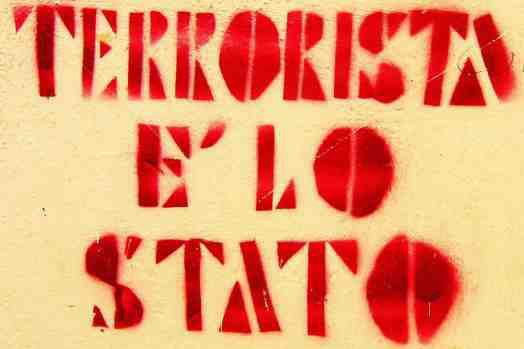 SOLIDARITY WITH THE ARRESTED COMRADES. TERRORIST IS THE STATE!
Eversion to democratic order. Violence for the purposes of terrorism.
12 arrests between comrades in Bologna, Milan and Florence.
7 person in prison, 5 with a daily signature and obbligation to stay in Bologna.
The repression of the state only increases. In the last 2-3 years, there have been various operations of this kind against anarchist comrades. First Florence, Turin, Trento. Terrorist association, subversive. In Milan, some comredes have been blamed for criminal association.
Now Bologna.
A fire is terrorism.
Sabotage is terrorism.
Going down in the streets and demonstrating is terrorism.
Writing a flyer or a pamphlet, an article on a blog is now terrorism.
The Public Prosecutor's Office of Bologna speaks of "diffusion of instigatory material to the carrying out of actions ascribable to a general 'Campaign of anti-state struggle'.
Therefore, to write or criticize the state of things and the political organization of this society is an act of terrorism.
And whoever does so, or rebels, whoever takes to the streets against absurd laws, whoever dares to say that he does not agree and acts against an increasingly dictatorial and repressive state, can be easily imprisoned and massacred.
Public opinion is easily controlled by journalists who, instead of analyzing the facts, are only capable of publishing the police headquarters' veils.
They are taking everything away from us, and we already had little left.
This "democracy" is just a police state.
But who is the terrorist?
Taking to the streets and blocking traffic is punishable by up to 12 years in prison.
An unauthorized demonstration can give away urban Daspo and "fogli di via" (territorial interdiction papers).
In the Mediterranean sea, states continue to block the boats with which "migrants" try to reach the European coasts, causing the death of thousands of people. The borders and the laws on the immigration build "clandestine", necessary exploitable and blackmailable manpower, at the mercy of the laws of the global capitalist market.
They kill people in prisons and CPR (detention centers for people without papers). They continue to evict and put people who no longer have the money to survive on the streets.
They instill fear and terror by exploiting some information and obscuring many more.
This is the state.
Now, they reopen factories and industries, but it's illegal for two people to go to the park. Schools and universities remain closed but arms production continues.
They are massacring small activity by favouring large corporations and multinationals.
Nature is being increasingly devastated in silence.
They are also taking away our freedom to protest, and to criticize.
THE REAL TERRORIST IS THE STATE.
Which is now afraid, because social anger is growing, it is afraid because it fears that it cannot control it, it is afraid and it represses it even more. He's afraid because people are tired. And because the real economic crisis is in the air, but it's yet to come. For now there are the spending vouchers, the 600 euros, the tax cuts. But it won't be enough. The crisis will come. The coronavirus has only speeded up the process.
The crisis will come, and either we will move towards radical change in the society in which we live, or towards an even more violent restoration, an increasingly authoritarian and dictatorial system.
It's up to us.
ALL FREE!
These are the current addresses of the arrested comrades, to write to him/her:
Giuseppe Caprioli –
C. R. di Alessandria "San Michele"
strada statale per Casale 50/A
15121 Alessandria
Stefania Carolei
C. C. di Vigevano
via Gravellona 240
27029 Vigevano (PV)
Duccio Cenni
C. C. di Ferrara
via Arginone 327
44122 Ferrara
Leonardo Neri
C. R. di Alessandria "San Michele"
strada statale per Casale 50/A
15121 Alessandria
Guido Paoletti
C. C. Di Ferrara
via Arginone 327
44122 Ferrara