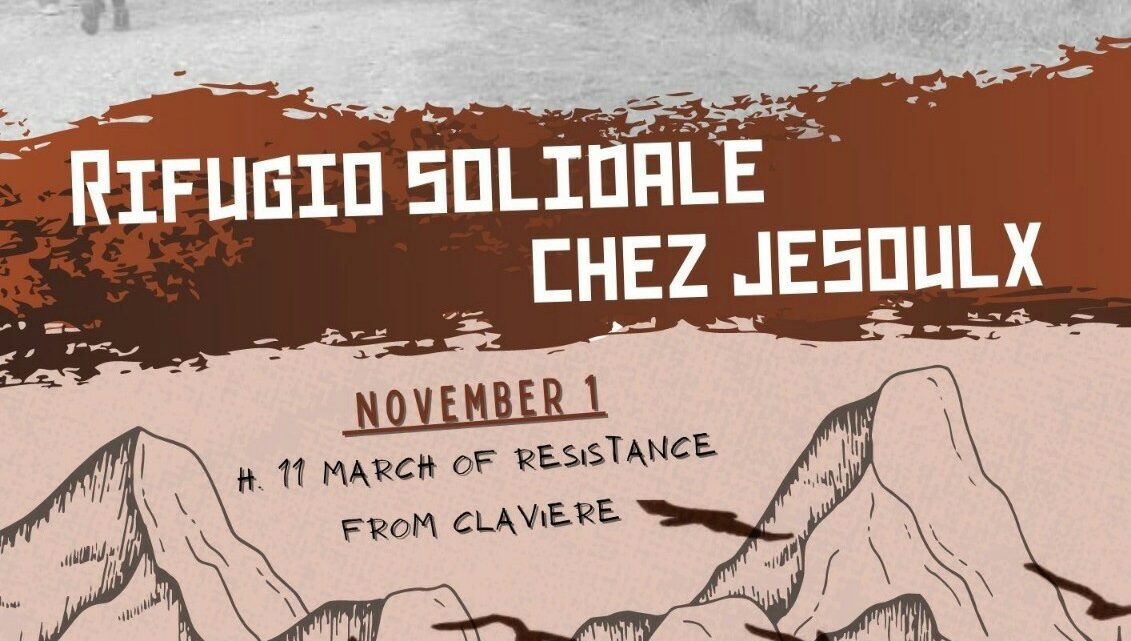 CALL for RESISTENT MARCH CLAVIERE – MONTGENEVRE, SUNDAY 1st NOVEMBER AT 11H

The Self-organized Refuge ChezJesOulx CALLS EVERYONE FOR a WALK of RESISTANCE SUNDAY 1st NOVEMBER AT 11H FROM CLAVIERE
The walk will be preceeded by a day of discussion on related topics such as: the border and the repression deriving from it, the detentions in the CPR, the exploitation connected to migratory flows in the Saluzzo countryside and beyond, at the OCCUPIED CASA CANTONIERA on the 31st of OCTOBER at 11h.
Solidarity is under attack on both sides of the border, from the high valsusa to the briançonnais.
In Italy, the Casa Cantoniera Occupata has continued for two years now to provide a free and self-determined space for all people who want to FIGHT FOR THEIR FREEDOM OF MOVEMENT. The principles of self-management, anti-authoritarianism and direct solidarity guide our political project. As part of an investigation involving more than 170 people, 17 of them have received a residence ban from the border territory, the first time a precautionary measure is confirmed against an occupation.
In France, the occupied house in Gap, Cesai, was recently evicted, although this did not prevent the reopening of a new space, Chez Roger. In Briançon, the new mayor, Arnaud Murgia, declared open hostility to all solidarity initiatives, with the intention of closing the Maraudes and the CRS legal refuge,legally under possible eviction from the 28 of october. In addition, at the end of the summer, 60 new gendarmerie units were mobilized at the border between Montgenèvre and Claviere to increase the level of surveillance and pushbacks, with the support of the Italian police. But, as several cases already demonstrate, closing the borders, the places of association and struggle has never been a deterrent to migration.
We believe it is necessary to bring attention back to the borders and the paradoxes that characterize them. With this intent, we have resumed several weeks ago to organize walks in the mountains from Claviere to Montgenèvre, in order to highlight the evident injustices generated by the aberrant European migration policies. On the one hand, the privatization of forests and paths to make way for golf courses and ski slopes, for the use and consumption of tourism, on the other hand, the massive police presence placed in defense of the fortress states, tries to prevent the passage of migrants, operating on racial grounds and limiting the freedom of movement in a discriminatory way.
Faced with all this, we believe that it is urgent to expand the network of active international solidarity able to politically oppose this hypocritical border regime and its arbitrary and repressive rules.
For all these reasons, we propose two days of reflection to fight all together against these infamous prisons (physical or otherwise) and all states and forms of authority.

SOLIDARITY IS OUR BEST WEAPON!
SET THE BORDERS ON FIRE!
NO BORDERS! NO NATIONS! STOP DEPORTATIONS!