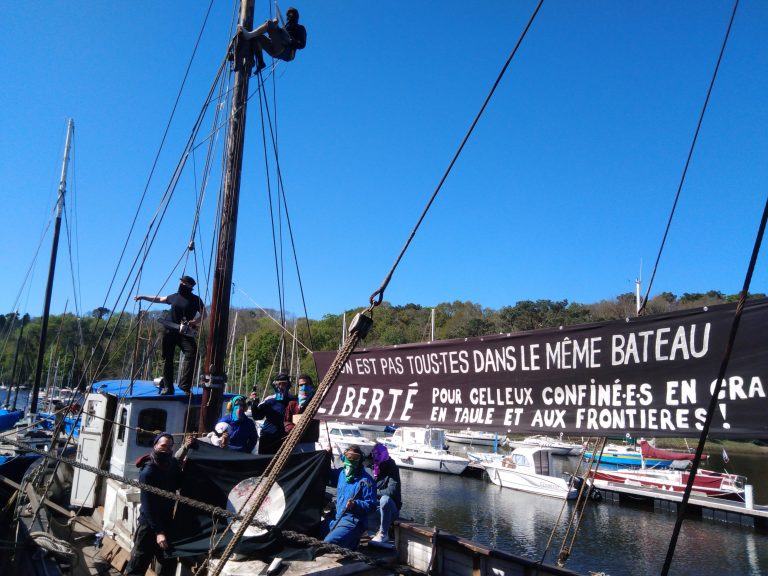 In the detention center of Toulouse and Marseille, the prisoners revolt!
These articles, first published in the 2nd november 2020 on https://toulouseanticra.noblogs.org/ and https://mars-infos.org/ show that all over France, the prisoners in the CRAs (Detention Center) are revolting – via a hunger strike in Toulouse or a collective communiqué in Marseille. They are protesting against the rotten prison conditions, even more so in times of confinement. Support the struggles of the prisoners! Closure of all prisons!
Hunger strike at the Toulouse detention centre in several sectors following the announcement of the confinement.
Since the beginning of the Covid 19 crisis, air traffic has been extremely limited, many borders are closed but people continue to be locked up in administrative detention centres (CRA). On Wednesday 28 October, the government announced a second confinement and the total closure of the external borders to Europe. However, the state still refuses to close the detention centres! The prisoners of the CRA of Cornebarrieu Toulouse respond by launching a hunger strike on Friday morning! The strike takes place in several sectors and the prisoners are in solidarity with each other, more than thirty strikers.
The prisoners demand their expulsion or their release, they don't understand this imprisonment at all costs while the flights to their countries of origin are suspended. They tell us, in the following testimonies, about their unworthy living conditions, the filth of the place, the unsuitable conditions at Covid-19, the racism of the police officers and the doctor who does not treat them, the total idleness because there is nothing to be done, no occupation is possible.
In sector A, 28 prisoners, all on hunger strike. One of the prisoners informs us about the demands of the hunger strike:
"The 28 people here, demand either that they expel us or that they free us. Why are they holding us here? I have a young child here in France, I have a job, why am I locked up here, I have nothing to do here.
They have military planes, if they don't want us here, we agree to leave. Even if there's war in our country, if there's a cartel and all the mess, I don't care if they expel me. Why am I deprived of my freedom?
In spite of the closing of the borders, the state continues to lock me up:
"We could see that they weren't freeing anyone, they're just bringing people back."
The conditions of confinement are despicable:
"2 per room, the shower is cold, no toilet paper, no pen, no paper, nothing to write on to pass the time. There is no activity. You can't see the TV, you can only see half of it. They treat us like shit. Because we are immigrants, we have no residence permit, no paper, they treat us like shit.
We are considered animals. Even the animals are treated better than us. They don't test us like citizens do. The whole Sector A is not tested.
Yeah, they give us masks, it's normal, it's masks provided by the State. The masks are free, they are obliged to give the masks, they are the ones who bring the disease in. They are the ones who go out and come back in, we are locked up…
We go on hunger strike until we die. Either we're going to die here or they'll set us free. That's what they're asking of us. »
The testimony of another prisoner :
"I wasn't born in France but I've lived all my life in France, I went to school in France. I've been here since I was one year old and they locked me up here.
We just ask for our rights, either they release us or they deport us.
The President made a speech yesterday, he said that the borders are closed, there is no reason to keep us.
At the moment the police, they say you're going to crack, I don't know, they don't care. Clearly they don't care if we eat, if we don't eat, they don't care. Some of them have been released from prison, that's it, their sentence, the release judge has lifted their freedom. As soon as you're released, that's it, you've finished your sentence.
In sector B, the women's sector, there are three strikers. One of them, 5 months pregnant, is on hunger strike and describes the conditions of confinement:
"We're on hunger strike because we're here, they make us miserable here when we stay here for nothing…
Containment is no more. We're in deep shit, there's no one left, no visitors, nothing now.
Every time we go to court, it's negative because the judges in the court are all racist, even the prefecture is racist.
I'm five months pregnant here, I'm stressed, even I've been to the hospital twice. 24 hours after they took me to the hospital, I've been bleeding, I've lost blood and everything, and they don't do anything.
And the doctor here he's really mean, and racist.
Normally we have to be outside, with our family, with our children.
I have 4 children, all minors, from 6 years old to 1 year old here in France, they were born in France, I am 5 months pregnant, it's crazy in fact.
We have the right to our freedom, normally it's human rights, freedom".
In Sector D, 4 people are on hunger strike for the same demand:
"They have taken our passports. We are asking to them or to send us back or to let us free. Because they gave to us 28 days, and they said we can repeat it 28 days, and another 28 days. Three months for what? »
Sector C: 8 new arrivals yesterday just after the announcement of the confinement, people from Lyon, Nice and Montpellier were locked up at the Toulouse CRA.
This relentlessness against undocumented foreigners must not remain hidden, let's not leave them isolated, let's support their struggles!
Down with borders, Down with the Detention Centers!
.
—————————————–
LETTER FROM PRISONERS OF THE MARSEILLE' DETENTION CENTER
"We are currently several people, including fathers of families whose children live in France, to be "retained" at the Le Canet Retention Centre in Marseille. We would like to alert the population to our conditions of detention in this period of the Covid-19 epidemic, as well as to the unfairness of this detention, even though the international borders are closed and any expulsion will therefore be impossible.
Most of us are people who have completed all their schooling in France and have obtained French diplomas, whether it be the CAP, the BEP, or even the BAC.
Myself, Mr Ayari Lotfi, arrived in France in 1992, at the age of 2. I grew up in the child welfare services. Today, I have been living in France for 30 years.
Having arrived before I was 13 and having been in the country for more than 20 years, I will have to be protected by certain articles of law. However, the French justice system has issued me with an ITF, an intrediction of the French territory, for 5 years. Against this ITF, I appealed to the TGI of Nîmes more than a year ago. And I still don't have an audience. It is inadmissible. The competent authorities told my lawyer that I was not a priority. Which paradoxically does not prevent them from wanting to expel me. It's not at all understandable. I have therefore been held at the Canet Detention Centre since 29th August, that is to say for more than 25 days. The time is long and the climate is anxiety-provoking.
Many of us feel distressed at the moment within these walls. We live with the fear of the virus all the time. Some detainees have arrived at the detention centre carrying the virus. Some supervisors have also tested positive at Covid-19 while continuing to work. On three occasions there have been the beginnings of general contamination in the detention centre. However, no measures were taken to protect us.
Two people are also currently extremely ill. One of them, a father of five children, has suffered two heart attacks. Following each of these heart attacks, this person was taken to hospital and then brought back to the detention centre. The facts are serious and frightening. The other person is a 20-year-old young adult with epilepsy. These two people have been living in France for a long time. They have family and stable accommodation. In our opinion, these people have nothing to do here and should be released.
But there is something even more serious. On October 28, at 8 pm, the President of the Republic made a speech in connection with the Covid-19 epidemic. In this speech he stated that ALL borders will be closed internationally. He stated that all establishments that are not indispensable will also be closed. Since no deportation can be carried out, and since non-essential establishments must close, why are the Detention Centres being kept open?
We, the withhelds, know that we cost a lot of money. We know that it is taxpayers' money. Taxpayers who sometimes are our parents. Mine, for example, who have been paying their taxes for more than 20 years in France. We think that this money could be used more intelligently at the moment, rather than being used to lock up people waiting for an expulsion that will probably not take place, since the borders will be closed until December 1st.
So far 42 detainees have signed this press release. We hope to be soon more.
We call for solidarity from outside to disseminate this communiqué and support us in our demands and our struggle.
Mr. Ayari Lotfi and 41 other detainees. »