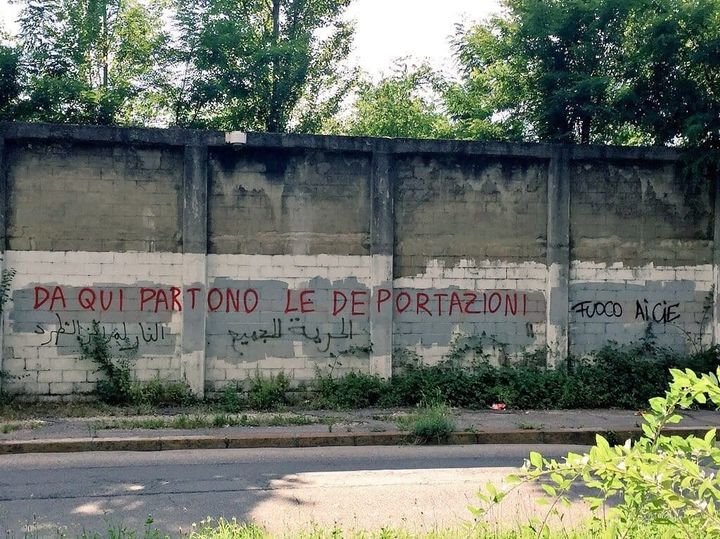 🔴STORY OF A DEPORTATION 🔴
Although it is difficult to hear from people who are detained in the detetion center (CPR) in Corso Brunelleschi (Torino), sometimes contacts are maintained even when people are deported to their country of origin. Thanks to these contacts, we reconstructed a deportation to Tunisia that took place more than a month ago, on 26 January 2020. The detainees tell us that they were picked up from the centre in the middle of the night and sedated before being put on the bus, evidently so as not to cause problems during the journey. The buses are escorted by several police patrols, two in front and two behind. The destination is Milan Linate. When they arrived at the airport, two other coaches joined them, one full of police to escort the people to Tunisia, the other one composed by detainees coming from the cpr (detetion center) of via Corelli (Milan). According to the inmates, the airline with which they were expelled is Bulgaria Air.
During the journey, they made two stops: Rome, where other persons from the CPR of Ponte Galeria joined them, and Palermo, where it seems that they checked the documents at the Tunisian consulate. In order to carry out this deportation, swabs were forced. In a deportation the following week, the procedure and the route was the same, with the difference that 4 out of 6 persons were released in Palermo with a travel warrant for "lack of space in the aircraft".
People transported from one part of Italy to another like parcels of mail, left in Sicily, without documents and at the mercy of controls and police forces, without any support or poit of reference. This shows, once again, how despicable deportations are: their only intent is to expel people in the most brutal and violent way possible.
AGAINST ALL BORDERS, FOR THE FREEDOM OF MOVEMENT OF ALL PEOPLE.
NO BORDERS, NO NATIONS, STOP DEPORTATION!
Source: No Cpr Torino (FB)