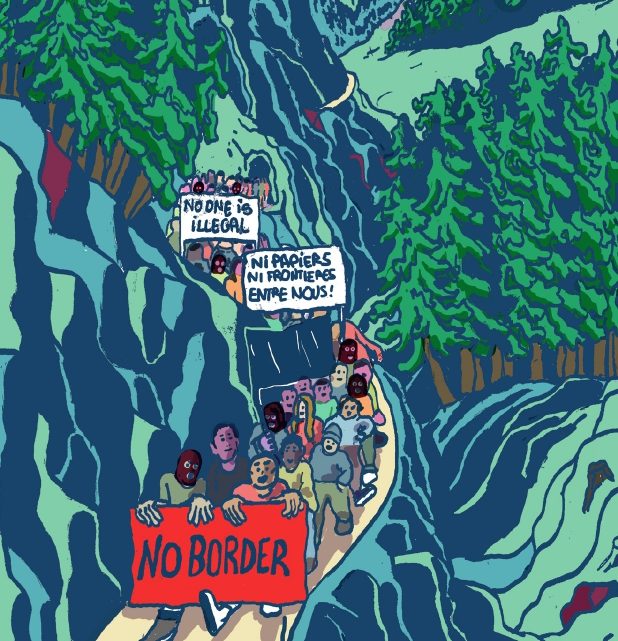 RESISTANT CARAVAN FROM VENTIMIGLIA TO THE ALPS
A RESISTANT CARAVAN "POR LA VIDA" FROM VENTIMIGLIA TO HAUTES ALPES
In September 2020, in the midst of the pandemic, the Zapatistas announced to activists around the world that they would begin a journey from Mexico to Europe, to meet the struggles on the old continent. On both sides of the Alpine border, we responded to this call.
Since several years, the militarization of the borders has brought with it its share of deaths, drownings and disappearances. From the Tamanrasset desert to the Mediterranean, from the Balkans to the Alps, borders continue to separate, select and kill people according to the economic and political interests of states.
On both sides of the Alpine border, "migrants" and activists acting in solidarity are facing a strong repression. The militarization of the border responds to the logic of territorial exploitation and "touristification", promoting economic activities related to mass tourism, which gradually let the territory be unlivable for the inhabitants and contribute to the forced invisibilization of "migrants", considered as "undesirable".
In order to let struggles and resistances at the borders be more visibles, to take back this territory occupied by police forces and the capital, and to weave bonds that strengthen our struggles, join the caravan of Resistance "por la vida" that will cross the borders from July 14th to 27th 2021.
PROGRAM :
15th July: Reception at the Ventimiglia camping.
16th July: Discussions and workshops
17th July: "Por la Vida" Caravan in Val Roya
22nd July: Welcome to the campsite of Clavière + discussions and projection > Autonomy, with the collective "Nodo Solidale" and the Zapatistas
23rd July: Round tables & Workshops: Computer Security / Fight against Detention Centers / Self Care / Tools of border fights + Theater.
July 24th-25th: Caravan "por la vida" to Briançon
25th-26th July: Reception in Gap + Discussions and round tables > Extractivism and international mobility/ Self-organization of "migrants"/Women & borders + Shows, circus and concerts
27th July: Demonstration in Gap
Free solidarity wineries will provide meals.
All nights will be spent in tents. Come with your own tents, blankets, headlamps and walking shoes.
Solidarity can't be evicted!
Solidarity can't be arrested!
More information on valleesenlutte.org / mars-infos.org / / passamontagna.info
caravaneparalavidayhastalamuerte@riseup.net
download the flyer here in pdf and on the images