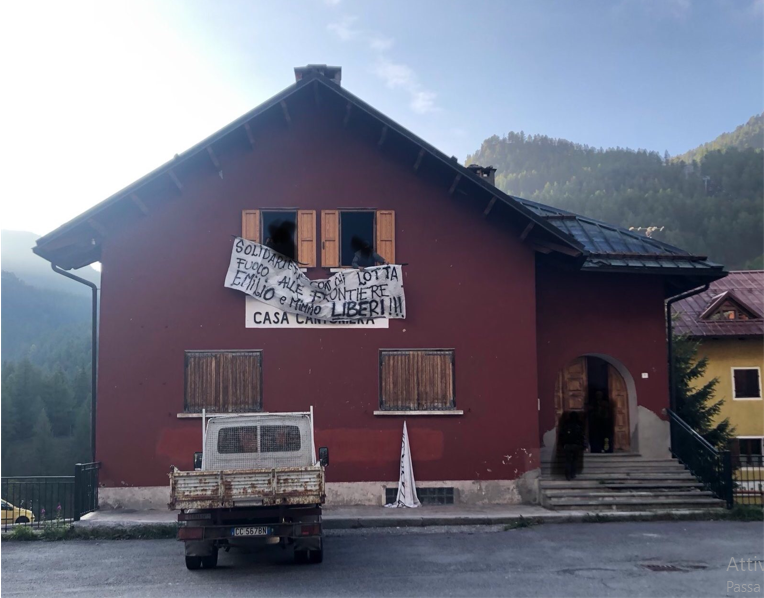 A new self-managed refuge is born: the Casa Cantoniera in Claviere is occupied!
A new self-managed refuge is born: the Casa Cantoniera in Claviere is occupied!
Yesterday the Casa Cantoniera of Claviere was occupied.
This house, abandoned for years, is owned by ANAS, which was coresponsible for the eviction of Chez JesOulx.
From today, we are reviving it as a solidarity shelter open to all and a place of struggle against borders.
Winter and snow are coming. The ResAlpes buses no longer make stops at Claviere and this night 50 determined passers-by walked from Oulx to Claviere. In Claviere there is no solidarity structure for the people who, every day, cross the border despite the targeted controls, violence and rejections by the police aux frontières and the French gendarmerie.
In spite of increasing repression, we take the freedom to move and live wherever we want and claim back the empty spaces. That is why, instead of yet another tourist device, we will make this place a place of solidarity and politics.
In Oulx, the Fraternità Massi institutional shelter only functions as a dormitory and leaves people on the street during the day, except for those considered 'fragile'(…). Faced with this failure of the welfare model, we organise ourselves in self-management with the people who face this border every day.
The border continues to kill and endanger people's lives and, until all this is destroyed, we will organise actions of direct solidarity.
Join us now in Claviere to build this new refuge together.
The demonstration and solidarity lunch will start at 10am, come in numbers!
AGAINST BORDERS AND THE STATES THAT CREATE THEM, FREEDOM!
NO TO THE EXTRADITION OF EMILIO! EMILIO FREE!