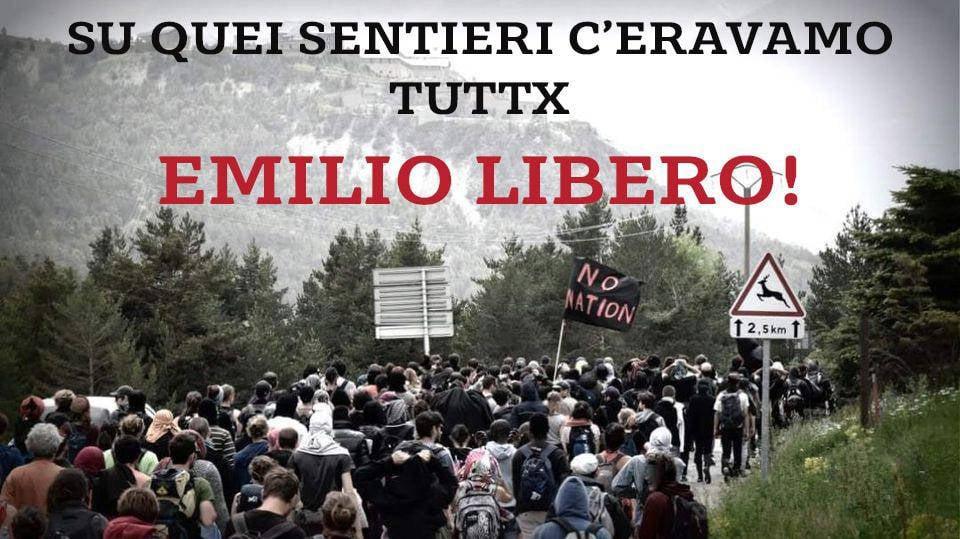 SATURDAY, 4thDECEMBER AT 1PM IN CLAVIERE FOR THE FREEDOM FOR EMILIO AND FOR EVERYONE
Yesterday, Wednesday 1st December , shortly after 1pm, Emilio was arrested. They took him away from his house, where he had been under house arrest for two months.
The aggravation of the measure was requested and accepted because of public order- arguing that the presence of some people at the permanent demo in front of emilio's house,could have created problems during the extradition. It is a clear intent to penalize the active solidarity that has characterized the demo since October.
Now he is at the Vallette prison of Turin waiting for his extradition to France, a wait whose duration is unknown.
In response, let's meet again on Saturday, December 4 in Claviere at 1:00 p.m. We will leave at 2:00 p.m. for a walk on the border.
Let's go back there where those directly responsible are, the French border guards.
Saturday will also be the day of the reopening of the ski facilities of Claviere and Monginvero, after two years of stop related to COVID.
This place lives off an elite tourism made for those who have a nice wallet full of money, documents and health pass. But behind this image that they would like to hide a daily routine of manhunt, police violence and repression. As it happens every day to those who do not have documents and who risk their life on these paths because of the presence of the armed wing of the state.
Or as it happened to Emilio who, together with all of us, was on those paths at the May 15 demonstration.
FIRE TO THE BORDERS, TO THE PRISONS, TO THE STATES
FREEDOM FOR EMILIO, FREEDOM FOR EVERYONE