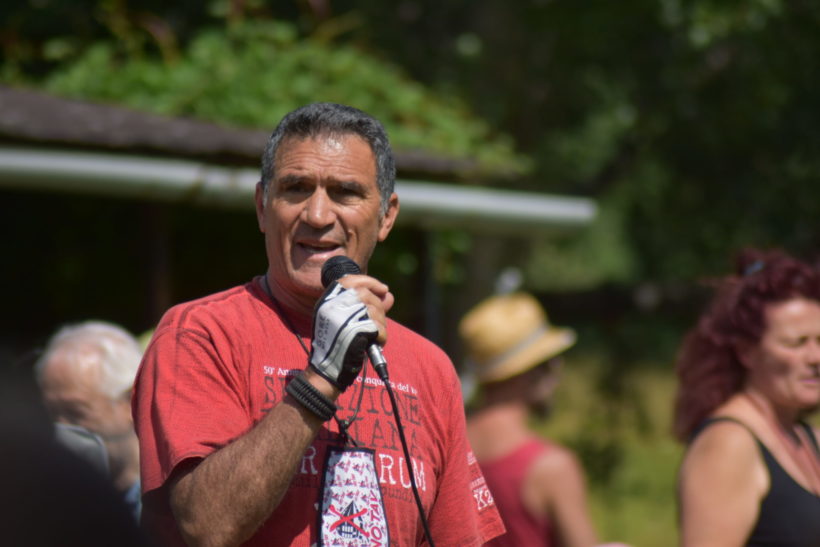 THE SOLIDARITY COMMITTEE "EMILIO LIBERO" IS BORN
The facebook page of the committee is born
Published by notav.info on January 8th 2022
On 6th January 2022, the Emilio Libero Committee was set up to monitor the situation of Emilio Scalzo, who was extradited to France on 3rd December 2021 and is now being held in Aix en Provence prison.
The Committee intends to carry out a strong and incisive action to make his story known and to oppose the judicial persecution of our generous comrade and brother. This persecution is nothing but a sign of the war that the envious and vindictive power (as Herodotus reminds us) is carrying out against those who fight actively and without mediation for social and environmental justice, on the side of the oppressed.
A heavy media silence has fallen on Emilio's case. The committee proposes to break this silence, giving voice, strenght and continuity to the many initiatives of solidarity that already exist in the Susa Valley and beyond.
We appeal to all those who care about truth and justice and who continue to feel on their own skin the slap of oppression.
We will communicate the initiatives we are preparing, both nationally and in France.
In the meantime, we invite everyone to write to Emilio to express their solidarity and closeness. The address is:
EMILIO SCALZO
N. D'ECROU 89145
MAISON D'ARRET D'AIX LUYNES 70
ROUTE DES CHÂTEAUX DU MONT ROBERT CS 20600
13595 AIX EN PROVENCE CEDEX 3
FRANCE.
---
Please find enclosed some news about Emilio:
Emilio Scalzo is 67 years old and is a native of San Cataldo (Sicily). Like many people, he experienced emigration and found a new residence in the Susa Valley. He has spent his whole life working as a fishmonger, together with his wife Marinella, in the markets of the valley. He is remembered for being a promising football player in his youth, and later in the Veterans of Piedmont team. In his youth he had an interlude in competitive boxing. Since 2005 he has been a 'tireless' activist in the No Tav movement, known to social movements, associations, environmental and solidarity groups throughout Italy. Very attached to his family, he was able to take on the problems of his eight brothers, amidst a thousand vicissitudes (prison, drugs, absconding), without being captured by the lure of easy money, by what he himself calls 'the vinegar road'.
Accustomed to always taking the side of the weakest, from 2017 he naturally started helping migrants passing through the upper valley on their way to France. He is well known and respected by the people of Valsusa for his generosity, loyalty and his way of living with his head held high in the face of the world. "…All my life the evil of the world has passed by my side, and I can say that I know the way of vinegar. If you have now found your enemy in me because I am a Notav and I cut nets, that's fine, but believe me it's a bit funny".
Emilio was under house arrest at his home in Bussoleno. He was not forbidden to meet people, and for this reason many Notav militants took turns in the previous days to visit him and make him feel their solidarity and affection. Among these, on the day of his arrest, Zerocalcare visited him. Around 1 p.m. on 1st December, police officers in riot gear blocked all access roads to Emilio's house, and like a scene from a film, they entered the garden, climbing over and jumping onto the lawn as if they were capturing a dangerous mafia man who had been on the run for years.
It is not possible to get used to this kind of violence (all they had to do was ring the doorbell and Emilio would have given himself up without resistance).
On 15 September, a European arrest warrant was issued against Emilio Scalzo for a solidarity demonstration with migrants that took place between Claviere and Montgenèvre (spring 2021) during which Emilio was accused of violence against a public official, arrested and transferred to prison, which was later changed to house arrest. On 1 October, the Turin Court of Appeal accepted the extradition request from France. Afterwards, Danilo Ghia, lawyer, lodged an appeal against the extradition with the Court of Cassation, without success. Therefore, the European arrest warrant and the extradition to France took place.
In reality, the EAW is used in exceptional cases and Emilio's is the first case of extradition to prison as a preventive measure to the trial…
Luigi Manconi writes in Repubblica: 𝘓𝘦 𝘴𝘶𝘦 𝘤𝘰𝘭𝘱𝘦 𝘴𝘦𝘮𝘣𝘳𝘢𝘯𝘰 𝘲𝘶𝘦𝘭𝘭𝘦 𝘤𝘩𝘦 𝘥𝘦𝘳𝘪𝘷𝘢𝘯𝘰 𝘥𝘢𝘭 𝘭𝘰𝘵𝘵𝘢𝘳𝘦 𝘤𝘰𝘯𝘵𝘳𝘰 𝘪 𝘮𝘶𝘭𝘪𝘯𝘪 𝘢 𝘷𝘦𝘯𝘵𝘰, 𝘤𝘩𝘦 𝘲𝘶𝘪, 𝘵𝘶𝘵𝘵𝘢𝘷𝘪𝘢, 𝘤𝘰𝘳𝘳𝘪𝘴𝘱𝘰𝘯𝘥𝘰𝘯𝘰9 𝘱𝘰𝘵𝘦𝘳𝘪 𝘧𝘰𝘳𝘵𝘪𝘴𝘴𝘪𝘮𝘪 𝘦 𝘢 𝘱𝘰𝘭𝘪𝘵𝘪𝘤𝘩𝘦 𝘪𝘯𝘪𝘲𝘶𝘦
Gad Lerner writes on il Fatto Quotidiano: 𝘌𝘮𝘪𝘭𝘪𝘰 𝘚𝘤𝘢𝘭𝘻𝘰 𝘴𝘢𝘭𝘷𝘢𝘵𝘰𝘳𝘦 𝘥𝘪 𝘮𝘪𝘨𝘳𝘢𝘯𝘵𝘪 𝘦𝘥 𝘦𝘤𝘤𝘦𝘴𝘴𝘰 𝘥𝘪 𝘨𝘪𝘶𝘴𝘵𝘪𝘻𝘪𝘢… 𝘜𝘯𝘢 𝘨𝘪𝘶𝘴𝘵𝘪𝘻𝘪𝘢 𝘮𝘰𝘭𝘵𝘰 𝘭𝘦𝘴𝘵𝘢 𝘯𝘦𝘭 𝘱𝘳𝘦𝘯𝘥𝘦𝘳𝘴𝘦𝘭𝘢 𝘤𝘰𝘯 𝘪 𝘨𝘪𝘶𝘴𝘵𝘪.
Intervention of Bruna Consolini mayor of Bussoleno: 𝘖𝘤𝘤𝘰𝘳𝘳𝘦 𝘦𝘴𝘪𝘨𝘦𝘳𝘦 𝘱𝘦𝘳 𝘌𝘮𝘪𝘭𝘪𝘰 𝘚𝘤𝘢𝘭𝘻𝘰. 𝘓𝘪𝘣𝘦𝘳𝘵𝘢̀ 𝘥𝘪 𝘮𝘢𝘯𝘰𝘷𝘳𝘢 𝘱𝘦𝘳 𝘵𝘶𝘵𝘵𝘪 𝘲𝘶𝘦𝘭𝘭𝘪 𝘤𝘩𝘦
𝘤𝘰𝘮𝘦 𝘓𝘰𝘳𝘦𝘯𝘢 𝘍𝘰𝘳𝘯𝘢𝘴𝘪𝘳 𝘦 𝘎𝘪𝘢𝘯 𝘈𝘯𝘥𝘳𝘦𝘢 𝘍𝘳𝘢𝘯𝘤𝘩𝘪 𝘢 𝘛𝘳𝘪𝘦𝘴𝘵𝘦, 𝘦 𝘤𝘰𝘮𝘦 𝘪 𝘷𝘰𝘭𝘰𝘯𝘵𝘢𝘳𝘪 𝘥𝘦𝘭𝘭𝘢 𝘯𝘰𝘴𝘵𝘳𝘢 𝘷𝘢𝘭𝘭𝘦, 𝘤𝘦𝘳𝘤𝘢𝘯𝘰 𝘥𝘪 𝘲𝘶𝘦𝘴𝘵𝘪 𝘳𝘢𝘨𝘢𝘻𝘻𝘪 𝘦 𝘲𝘶𝘦𝘴𝘵𝘦 𝘧𝘢𝘮𝘪𝘨𝘭𝘪𝘦 𝘤𝘩𝘦 𝘴𝘵𝘢𝘯𝘯𝘰 𝘶𝘯 𝘮𝘰𝘮𝘦𝘯𝘵𝘰 𝘥𝘪 𝘥𝘪𝘧𝘧𝘪𝘤𝘰𝘭𝘵𝘢̀ 𝘦 𝘢𝘧𝘧𝘳𝘰𝘯𝘵𝘢𝘯𝘰 𝘤𝘰𝘴𝘪̀ 𝘵𝘢𝘯𝘵𝘪 𝘰𝘴𝘵𝘢𝘤𝘰𝘭𝘪.
For any information please write to: emilio.atestaalta@gmail.com