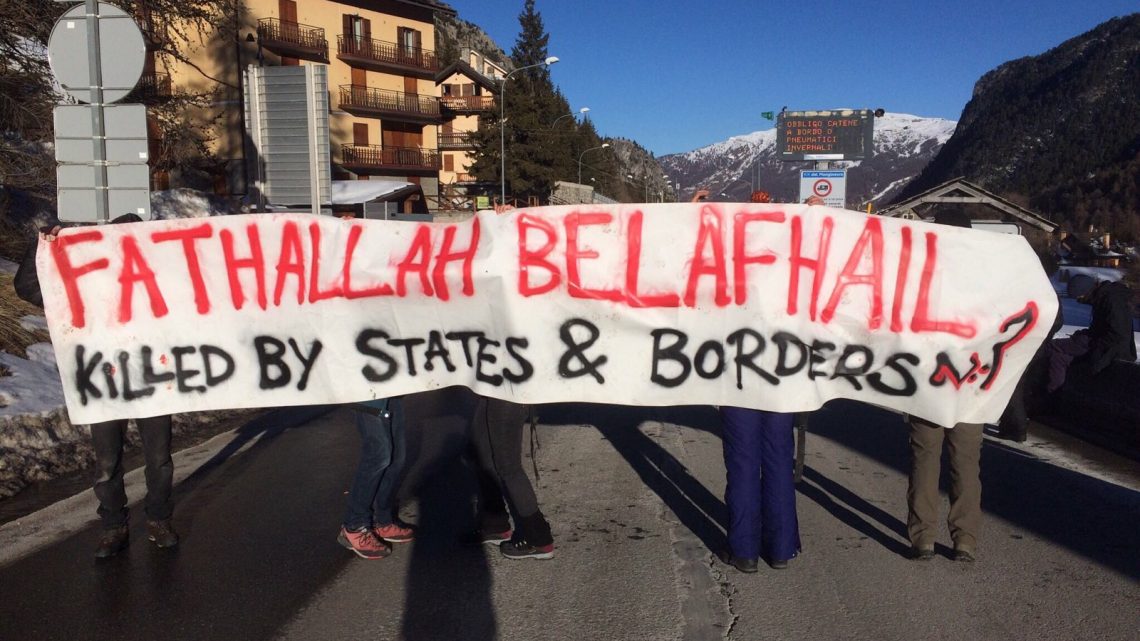 For Fathallah – 16th January demonstration
Last Sunday, the 16th of January, we met all together again in Clavière. We occupied the public space to finally give voice to the story of Fathallah, killed by this border. Fathallah, a moroccan guy of 31 years old arrived in France through Italy between December 29th and January 1st. He was found dead in the Freney basin, downstream Modane. He is the eight person dead on this murderous border in the last three years – or at least the eight that we know.
At 10am a solidarity stand with some tea and snacks was set up in front of the church on the other side of the street, with many tourists and skiers around us. At 11am the bus arrived and a numerous group of people on the move joined us. After some speaking out, a demonstration moved towards the border. The invisible border between Italy and France crossed by the street 94 of Montgenevre was blocked for two hours. Various interventions were held: from people who had known Fathallah to the current situation of the detention center of Turin, from No Tav struggle and Emilio's arrest to the updates from Tripoli. The deployment of cops, as always, was massive both on the Italian and on the french side. We could count at least 20 vans of police and gendarmes on both sides, together with undercover cops, investigating police and some journalists on their side.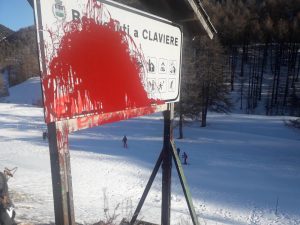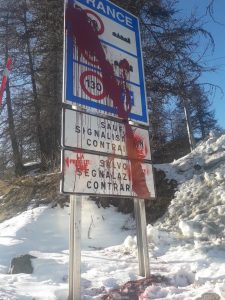 We decided to leave some red stains of paint on this border. This red paint stands for the blood of people who died here under the responsibility of both states. The blockage caused long queues of people in their cars, who showed their solidarity multiple times and even joined the demo.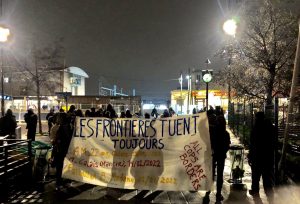 Also in Île-Saint-Denis, Paris, a group gathered for a march in the neighborhood in commemoration of those killed in recent days on the border and bring solidarity across borders.
We shouted our rage and pain facing this umpteenth murder of the state. Until this border will exist, we will stay alongside every person who has the will to cross it. The self determination of people on the move in the susa Valley as in every other territory bearing witness to control and selection never stopped!
ALWAYS IN COMPLICITY AND SOLIDARITY WITH WHO STRUGGLES AGAINST THE BORDERS
For Fathallah (Modane, 2/01/22),
Azzeidin (Calais, 14/01/22),
Abdallah (Calais, 15/01/22) and all the people killed by the states, their borders and their guards
FREEDOM