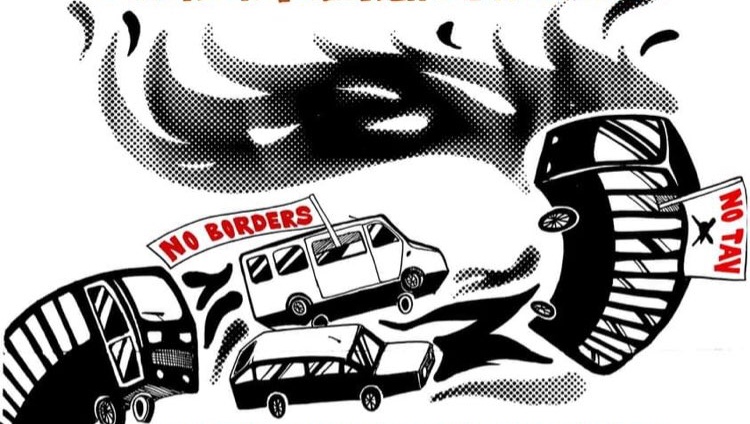 MANIFESTATION FOR EMILIO AT AIX-LUYNES PRISON – 12 February
IF EMILIO CAN'T GET OUT OF JAIL, WE WILL GO IN FRONT OF THE JAIL!
posted by @comitatoemiliolibero
Last week, the French judges rejected the appeal against Emilio's imprisonment, so now Emilio will have to stay in prison until the end of the trial.
The judicial doggedness against those who have always been on the side of the righteous and those who fight for a better future for all, does not stop. But we will not stop either: ON THE 12TH OF FEBRUARY, WE WILL GO TO THE AIX-LUYNES PRISON TO SHOW OUR SOLIDARITY WITH EMILIO WITH A PROTEST THAT WE HOPE WILL BE PARTICIPATED, NOISY, AND FULL OF LIFE.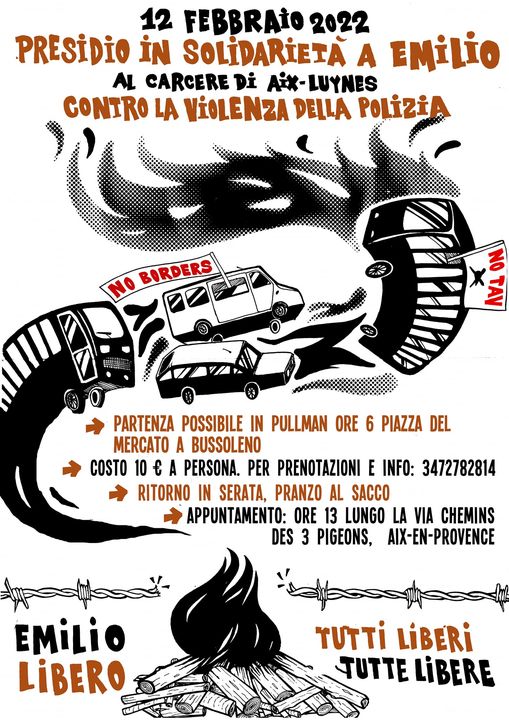 👉 For those who wish to do so, it is also possible to travel by coach, departing from Bussoleno on Saturday 12 February, at 06:00. Return in the evening. Cost of the trip 10 euro.
For information and to book a sit on the bus call Mimmo +39 347 278 2814. We also remind you to check the COVID rules for entering France before you leave, available on the website Viaggiare Sicuri (https://www.viaggiaresicuri.it/country/FRA).
In addition to the demo in front of the prison, to respond to the judges' decision and to continue to support Emilio and his family, there are many proposals for future initiatives, all to be built together.
WE MUST CAPTURE THE ATTENTION OF THE MEDIA AND THE FRENCH AND ITALIAN AUTHORITIES. We have to write to consulates, to ambassies, to journalists. Let's take every possible opportunity to get Emilio's story out there and put a spotlight on this judicial overkill, which now no longer even stops at national borders.
We will post more information on our social pages as future initiatives take shape.
#FREEEMILIO
#FREEDOMFORALL