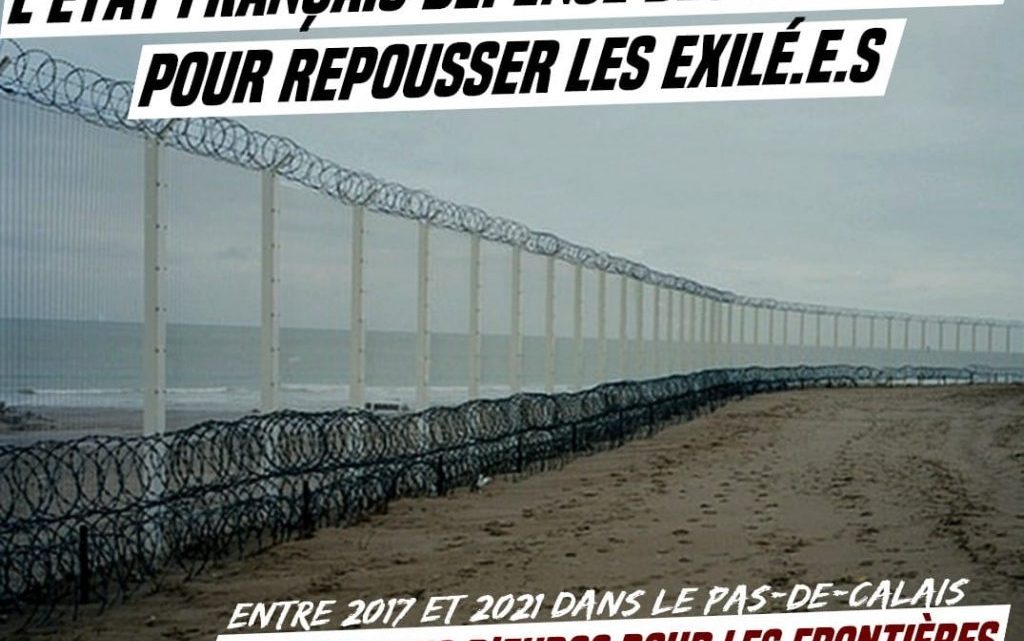 The French State spends billions against migrants
In the Pas-de-Calais (a department in the Haute-France region of France), 425 million euros to push back migrants versus 25.5 million euros for emergency humanitarian aid
In 2020, the cost of the fight against migrants spent by the French State was €1,364,920,528. An increase of almost 10% over the previous year. Reread this sum, which has the sole purpose of destroying human lives.
These insane figures are used for administrative detention centres, for deportation measures, for the bureaucrats of the Direction Générale des Aliens in France, but above all for the maintenance of a police force increasingly in charge of pursuing people fleeing tragedy.
Since 2015 and the promulgation of the state of emergency, whose legal basis is the fight against terrorism, border controls have been re-established and renewed every six months. However, in 2018, François Molins, the former Paris prosecutor who had to deal with the attacks on the capital, stated that the terrorist threat is now mainly endogenous. These measures are therefore mainly aimed at people in distress who are trying to get out.
The example of Calais and its surroundings is symptomatic. The increase of the various control devices along the Franco-British border has cost more than 425 million euros since 2017. The construction of walls, the installation of barbed wire, the development of video surveillance or drones, the increase in the number of law enforcement agents and their arsenal, all these measures represent a very high cost.
These millions do not just make people unhappy. For example, Vinci won the contract to destroy the Calais 'jungle' or to build an 'anti-migrant' wall to the tune of EUR 2.7 million. Thales offers the services of a drone designed to monitor the English Channel, at a cost of 15 million.
Finally, among the forty companies benefiting from this sleazy market, we mention Eamus Cork Solutions, a private security company founded by a former Calais police officer, which is rushing to fill the various contracts and has made a name for itself by not paying its employees overtime. When you have no morals…
In the Pas-de-Calais department, 85% of the budget is allocated to repression and 15% to the reception of exiles. This approach only pushes these people to take more risks in their attempts to cross, with the tragedies we know about. After the Mediterranean, it is the Channel and the Alps that become places of death. This also has, as a consequence, the development of networks of passeurs.
Finally, all this is part of the European logic of creating a fortress on the continent.
Solidarity with the migrants, death to capital!
Sources:
https://multinationales.org/Vinci-Thales-Eamus-Cork-Ces-entreprises-qui-profitent-de-la-situation-a-Calais https://www.lacimade.org/wp-content/uploads/2022/02/02-01a-PSM-Rapport-30ans-V3.pdf
https://basta.media/controle-aux-frontieres-migrants-exiles-Calais-Briancon-couts-de-la-repression-bunkerisation-militarisation-Darmanin