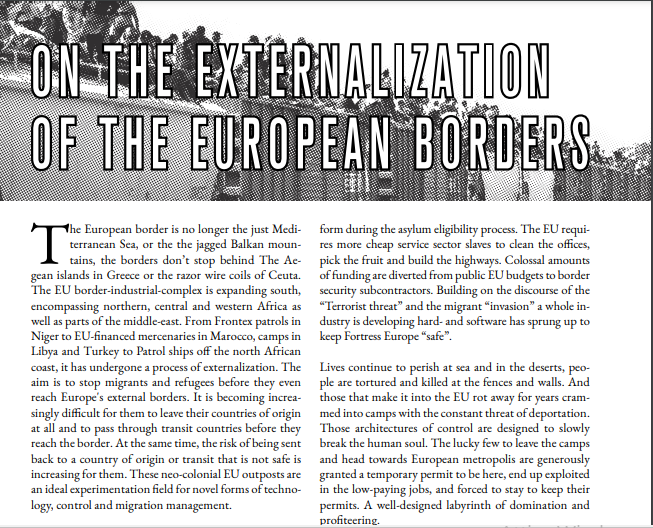 BROCHURE ON THE EXTERNALISATION OF THE EUROPEAN BORDERS
There are many people who, for the most diverse reasons, seek to move to live on a piece of land they were not born on. If they are rich, they are 'expatriates'. If they are poor, they are irregular migrants, 'clandestine'. In the coming decades alone, the number of people forced to move due to human-induced climate change is between 200 million and billions. And most of them from 'poor' countries, those most affected in the immediate future by the climate crisis that the more industrialised countries have created. Just as there are increasing numbers of refugees fleeing wars financed by the West. Or the poorest who seek a better life, fleeing those countries where multinationals and richer states do everything to grab natural resources at bargain prices and pay workers a pittance to create more profits.
(Not surprisingly) what does the European Union do? It increases the budget for externalising borders. It increases the money for control, biometric passports, means of refusal. To select and stop those people the EU economic system does not want; to facilitate repatriations; and to make money at every step of this process.
These pages deal with this issue.
We invite everyone to download them, read them and for those who wish to share their reflections, readings, reasoning.
to download the brochure click here
EXTERNAL – english