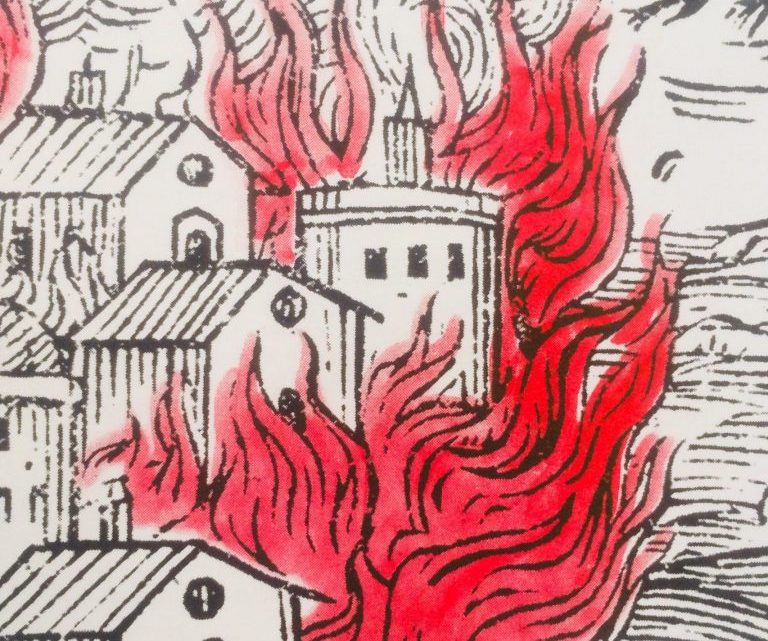 ON THE RIOT AT THE TURIN DETENTION CENTRE ON 4-5 FEBRUARY
Published by no cpr torino on 6 February
🔥On the evening of Saturday 4 February a riot broke out inside the CPR (Ddetention centre) of corso Brunelleschi which was harshly quelled with riot police and tear gas. Three areas were involved and a fire broke out in the canteens.
⚫️La protest started because of the horrendous detention conditions and forms of torture that the managing body ORS Italia, with the support of the police headquarters, carry out on a daily basis.
From inside they tell us that the food is rotten and contains psychotropic drugs, the cells are cold, there is no hot water and the sections are full of rubbish.
The guards daily coercively administer psychotropic drugs and beat the inmates. They tell us about a room used for beatings.
⚫️I solidarity who went under the walls of the CPR on the evening of Saturday 4, could hear the screams of the protesting people, the smell of tear gas fired by the celere inside and the smoke from the fire. They could also see three ambulances drive away on Via Monginevro. In fact in the evening someone from inside told us about 3 people being transferred to hospital and violent beatings to suppress the riot. Some people were left on the ground injured without assistance.
💥 In order not to leave those inside alone, in the late afternoon of Sunday 5, a group of solidarity activists gathered on the lawn of Corso Brunelleschi to set up a mobile garrison in solidarity with the inmates and rioters.
During this moment a few people climbed onto the roof of the White Area to the shout of freedom.
Beatings alternated with shouts of protest. Numerous fires were lit forcing the fire brigade to enter the building.
⚫️Nonostante the communication blockade imposed by the managing body during the garrison, a call pierced the walls. In addition to reminding us of the torture they endure on a daily basis, they updated usǝ on what was going on inside including the entry of a few trucks into the rioting areas.
Soon the comrades could smell the tear gas once again.
During the evening we learned that 3 out of 4 areas were rendered uninhabitable, people slept outside without blankets or even mattresses and guarded on sight by guards. Some people seriously injured in the beating did not receive any help.
⚡️La loud request from inside is to break the wall of silence surrounding administrative detention and make known outside that prison the violence they are subjected to on a daily basis.
Wall of silence broken in these days thanks to the determination of the inmates who continued to call for solidarity outside despite the obvious attempt by the management of the CPR to isolate the detainees and cut off, with the blocking of the booths, every call abroad.
On the website "no cpr torino" we publish the audios with the testimonies of these last days.
Always in solidarity with the inmates and rioters.
FIRE TO CPR!
ALL FREE